(Or: Don't leave money on the table!) 
By Sue Hamlett
It is exciting to start a New Year, and at Maine Equal Justice, we hope that 2022 brings wonderful things for you and your family! Now that 2021 is over, it is time to get ready to file your taxes.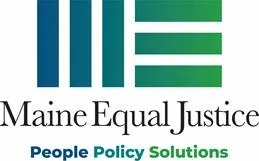 There is no doubt that filing taxes can be very complex and time consuming, but free help is available, and many people in Maine, especially with low income, are owed a tax refund. Some for-profit tax preparers will charge large hidden fees to help you with your taxes, often by promising a "rapid refund" or "line of credit" without a credit check, but this means you will have to agree to get less from your tax refund. Be aware of those costs and make sure that you are using a trusted helper.
You can get free help filing your taxes from a local, trusted organization – the CASH Coalition of Maine. Call 211 for an appointment or sign up at CASH Maine. You can also sign up at the Maine Equal Justice website and we will help you get an appointment for free tax preparation.
Will claiming tax credits affect immigration status?
No! Receiving federal tax credits that you are eligible for will not affect your immigration status, your ability to get a green card, or your future eligibility for immigration benefits. Use of federal tax credits is not considered for purposes of a "public charge" determination by U.S. Citizenship and Immigration Services.
Who can get the Child Tax Credit of 2021?
Anyone who lived in the U.S. for more than half of 2021, who has a child with a social security number in their household, can get the child tax credit, even if they do not have a social security number themselves. You don't need to have income for this credit, but you DO need to file taxes!
Even if you were receiving monthly payments from July through December, it is important to file your 2021 taxes so you can get the other half of the 2021 Child Tax Credit (up to $3,600 per child in all). If you do not have a Social Security Number you will need an ITIN (Individual Taxpayer Identification Number). If you did not get monthly advance payments from July through December 2021, you can still get the whole tax credit amount by filing your 2021 taxes.
Are there other tax credits I could get?
Yes! If you work and have low income, you may qualify for the state and federal Earned Income Tax Credit. If you rent an apartment or own a home you may qualify for the Property Tax Fairness Credit, and if you own your home be sure to file a Maine Homestead Exemption tax form with your city or town office.
Will claiming tax credits impact my eligibility for other benefits?
The Child Tax Credit and other tax credits will not count against federally-funded public benefits, like TANF (income support), SNAP (food assistance), or MaineCare, but will count against General Assistance.
How can I get ready to file my taxes?
You will soon start getting some of the tax documents that you need in the mail. If your address has changed in the past year, be sure to update it with employers, government agencies and banks as soon as possible. Keep all these documents in a safe place.
W-2: If you have a work permit and worked during 2021 you will get a W-2 form from each employer with a record of your earnings and the taxes that were held back and paid to the IRS.
1099-MISC or 1099-K: If you worked as a "contractor," you are considered to be self employed (Uber and Doordash are examples). Taxes are not held back from these earnings.
1099-G: If you lost a job and got unemployment insurance, you will get a record of those payments, which are taxable.
1099-INT: If money you saved in a bank earned interest, the bank will send you a record.
1095-A: If you or anyone in your household has health insurance through the Marketplace, you must file a tax return. You can access this form on your Marketplace account.
SSA-1099: You will get this form if you receive retirement, disability or survivor benefits through Social Security. You will NOT get this form if you get SSI (Supplemental Security Income).
Letter 6419, 2021 advance CTC: The letter will include the total amount of advance Child Tax Credit payments you received in 2021 and the number of qualifying children used to calculate the advance payments. You should keep this and any other IRS letters about advance CTC payments with your tax records.