By Sue Hamlett
Throughout the pandemic, Maine Equal Justice and our partners have worked with hundreds of Mainers seeking unemployment benefits. We wrote our new guide to the Basics of Unemployment in Maine (maineequaljustice.org/people/help-is-available/unemployment-insurance/) to answer common questions such as: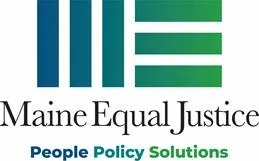 How do I apply for unemployment benefits?
How long will I have to wait before I get paid?
Can I get unemployment benefits if my hours have been cut?
What are fact-finding interviews, deputy's decisions, and appeals?
What must I do to qualify for UI?
How can I get more training and education?
What will happen if I am offered a job I don't want to accept?
The Maine legislature passed a bill this year to improve the unemployment program and those changes are included in the guide. One big change in the law is that you can earn more money each week and still qualify for partial unemployment benefits.
At this time of year, many people in Maine work seasonal jobs. You might be able to get unemployment when your seasonal job ends, even if your employer says you can't. Some seasonal jobs, during some times of the year, can qualify.
The best way to find out if you qualify is to apply. You can apply online at ReEmployME (reemployme.maine.gov/accessme/faces) or by calling the Maine Department of Labor at (800) 593-7660 between 8 a.m. and 3 p.m. If English is not your first language, you may want to request an interpreter.
After you open a new claim, you still need to enter a weekly claim at the end of each week to get unemployment benefits.
Non-citizens are eligible for unemployment if they were working with a valid work permit and have a current work permit. You also have to be physically able to work, available to work, and looking for work (see more about this in our guide).
Often the Department of Labor system asks non-citizens for extra verification of identity. If this happens, your unemployment account may be locked. You will need to take photos of your identity documents and upload them to the Department of Labor website. You may have trouble entering information for your weekly claims while your account is locked, but once your identity is verified you should call the Department of Labor and ask for help entering any weeks you missed. Call us if you're having a hard time with this or with any other barriers filing for unemployment.
We have heard from many people how frustrating and complicated these systems can be. When basic support for your family is on the line, it can be very scary to deal with barriers, delays, and mistakes. If you can't find the answer to your question in the guide, see below how to contact us.
Do you need help making ends meet while you wait for unemployment insurance? Or have you been found ineligible for unemployment? While you are waiting for unemployment benefits to start, or if you can't get unemployment benefits, call the Maine Department of Health and Human Services at (855) 979-4357 to ask about MaineCare, Food assistance (SNAP) benefits, or – if you have children at home – Temporary Assistance for Needy Families (TANF) or Emergency Assistance.
Go to the Maine State Housing website (mainehousing.org/programs-services/rental/rentaldetail/covid-19-rental-relief-program) and apply for Emergency Rental Assistance or call your town office to ask about General Assistance to help with your rent. Your weekly unemployment benefit cannot be considered income to you for any of these other programs if you are not receiving it.
If you need help with any of these programs you can email us right from our website at maineequaljustice.org/contact-us/ or give us a call at (207) 626-7058, extension 205.