Note: homepage photo is of members of the Congolese Brazzaville Community of Maine pre-COVID on November 16, 2019
Mileina Beatrice is President of the Congolese Brazzaville Community of Maine, which serves an estimated 300-500 refugees, asylum seekers, and other new arrivals who were born in Congo Brazzaville and now live in Maine. In March, soon after the COVID-19 pandemic first arrived in the Pine Tree State, Beatrice started reaching out for help to the New Mainers Working Group (NMWG) – a collaborative formed by leaders of immigrant communities in direct response to the crisis on behalf of community members who were reporting to her that they weren't getting answers to their questions about benefits and health care when they approached the state.
"The virus is spreading in the asylum-seeker community, and a lot of our members don't have adequate health insurance. Where should they go?" Beatrice asked the NMWG on March 25. That group worked to find answers to Beatrice's question – and many other questions from other community association leaders – but answers were elusive, and often bore disappointing news.
Now, four months later, Beatrice explained that the Congolese Brazzaville community is in real distress, with many families in dire financial straits. She said she is worried about the upcoming fall and winter, and hopes her community can endure another difficult pandemic season. New issues emerge in her community constantly, she said, and one topping Beatrice's mind right now is the plight of immigrant entrepreneurs, who face particular challenges.
Michel Simba is one such entrepreneur. Simba arrived in Maine in 2017 from Congo Brazzaville. With a background in business, manufacturing, and oil and gas, Simba decided to open a company, and in 2018 he founded Global Professional Services on Pine Street in Lewiston. The company offers a variety of different services under one umbrella, primarily tax preparation, payroll services, accounting, import-export, digital marketing, insurance, and staffing. Some of the services, such as tax preparation and digital marketing, are provided directly by Global Professional Services. Other services, such as insurance and import-export, are offered in partnership with bigger companies. Simba has big dreams, and hopes to go worldwide. He has assembled an international team, and has branches in Angola (where the company is known as Global Professional Commerce and Services, or GPCS) and Congo Brazzaville.
The company got off to a good start, and growth was steady until the pandemic hit. Now, like many small-scale entrepreneurs, Simba is concerned that he won't be able to keep his business afloat.
And he has just learned that he is ineligible for the type of assistance that is available to others. When he applied for a Small Business Association Disaster assistance loan, he received notification in late June that he did not qualify. The notification he received read simply, "An asylum status in progress is insufficient for an EIDL loan." Simba said he was discouraged that the government was perfectly content to let him launch a business in the United States, and that home loans are available to asylum seekers so long as they meet certain criteria, but he cannot get emergency assistance to keep a business going during a pandemic.
Henri-Clovis Apoloyo is another entrepreneur trying to make it through the COVID-19 crisis in one piece. He ran a grocery store in Johannesburg, South Africa, for years before moving to the
United States in 2005 and to Maine in 2014. He is originally from Congo Brazzaville. In January 2020, Apoloyo opened the doors of Papa Clo Grocery Store, on Portland
Stree in Portland, opposite the central post office. The shop carries primarily African products, such as cassava leaves, plantains, smoked fish, Senegalese style salt fish, fufu, dried milk, peanuts, sauces, and juices, as well as oil, sugar, flour, and produce.
Unfortunately, just a little over two months after opening day,  the pandemic hit, and Gov. Mills issued her first "Stay Healthy at Home" mandate. Business slowed significantly, and Apoloyo struggled to pay his bills. "May was very hard, but now people are going out more, and things are a little better," said Apoloyo. He faces some challenges that American business owners don't, such as navigating complex applications, in English, for financial assistance from the government. "It was too difficult," Apoloyo said, "and I didn't have the help I needed, so I gave up, and never applied." In addition, because 80% of the products sold at Papa Clo Grocery Store are from Africa and supply chains are impacted by the pandemic, he is having a hard time stocking the store. And finally, his clients are primarily low-income African immigrants, also suffering financially from the crisis, and unable to do much shopping. So Apoloyo feels the future of his business is uncertain.
Gaël Taty arrived in the United States as an asylum seeker in 2014. Houston was his first stop, but he moved to Maine six months later. He launched his business, Painting & Services, in 2016,  but it wasn't until 2019 that Painting & Services really began to take off. Because Taty's English was limited in 2016, he received lots of negative feedback from potential clients, who wouldn't give him a chance when he picked up the phone and they heard his accent; some even hung up on him. So he decided to work as a Direct Service Provider (DSP) for a while, and also had a job with the airlines. Meanwhile, he honed his language skills.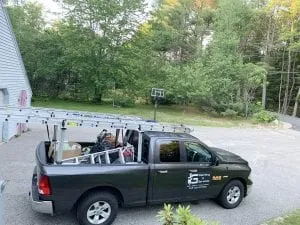 Finally, in 2019, he decided the time had come to resolve to achieve his dream of being self-employed. By then, his English was much better, and he had developed a network of connections. So he bought insurance, and put out word that he was taking clients. And customers slowly began to come his way. His services include painting, cleaning, handyman jobs, and demolition. He hires others to work for him, including asylum seekers whose papers are in order. He has received many good reviews for his work.
Unfortunately, COVID-19 has slowed the growth of his business, but Taty has not accessed government programs for small business owners. He found the applications incomprehensible, and didn't know where to turn for help. Taty encourages Americans not to be afraid of people whose English is weak. "Give people a chance – let them prove to you that they are capable. In my case, early on a manager trusted me despite my weak English. He liked me, and trusted me – and that made all the difference. People need to get a chance, no matter what," he said. Taty is optimistic that next year will be a better one. He said he might try again to apply for assistance.
As President of the Congolese Brazzaville Community of Maine, Beatrice is concerned about her community. Entrepreneurs are having trouble, and many others who worked front-line jobs have either been laid off, or are out on sick leave, because of the virus. Members of the community report that they still spend hours on the phone trying, often unsuccessfully, to get through to the Maine Department of Labor; when they do get through, many say they are denied benefits. Beatrice herself has made many phone calls on behalf of others, and confirmed that the reports of delays and denials are accurate.
She wondered what can be done for community members who don't have a financial cushion, but are trying to manage during difficult times. Many face evictions, and still haven't been able to access unemployment benefits. Compounding the problems, she pointed out that many members of her community are afraid to seek medical attention, due to the climate of fear. Because of the policies of the current administration, they fear their immigration status makes them vulnerable to deportation.
As soon as the first COVID-19 case was confirmed in Maine, the New Mainers Working Group predicted that racism would cause the virus to have a devastating impact on communities of color. They hoped that by advocating for their communities, they could help stave off disaster. The jury is still out.
If you would like to get in touch with any of the entrepreneurs mentioned in this article contact: [email protected] and we will pass your message along.