Na Alex Carter, Maine Equal Justice Policy Advocate 
Inamaanisha nini kwa Maine kuunga mkono wahamiaji na wale wanaotafuta mwanzo mpya na usalama kutokana na mateso, vita, na udikteta? Ni zaidi ya kufungua milango yetu – inamaanisha kuhakikisha kwamba wanaowasili wana paa juu ya vichwa vyao, chakula cha kula, uwezo wa kufanya kazi na kutegemeza familia zao, na upatikanaji wa huduma muhimu za afya kwa ajili ya ustawi wao wa kimwili na kiakili. Mwaka jana, Gavana Janet Mills na Bunge la Maine walipanua MaineCare kwa wajawazito wanaostahiki kipato na wale walio chini ya umri wa miaka 21, bila kujali hali ya uhamiaji. Hiyo inamaanisha kuwa kuanzia tarehe 1 Julai 2022, wakazi wengi wachanga zaidi wa Maine, wenye kipato cha chini watastahiki kujisajili ili kupata bima ya afya kwa bei nafuu kupitia MaineCare.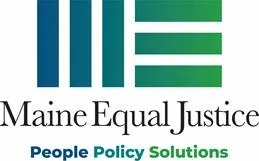 Iwapo unafikiri kuwa wewe au mtoto wako mnaweza kustahiki mwaka huu na una maswali kuhusu kujiandikisha kuanzia Julai, tafadhali piga simu kwa Watumiaji kwa laini ya Usaidizi wa Huduma ya Afya ya Nafuu kwa (800) 965-7476. Iwapo unaamini kuwa umenyimwa MaineCare kimakosa au una ugumu wa kujiandikisha, unaweza pia kuwasiliana na Maine Equal Justice kwa (866) 626-7059. Nambari hii inajumuisha chaguo la kuchagua lugha unayopendelea.
While the expansion of MaineCare to youth and pregnant people is cause for celebration, many immigrant adults still fall into the MaineCare coverage gap and cannot afford the healthcare they desperately need.  
There are two opportunities during this short legislative session to right this wrong!  
The first is the 2022 Supplemental Budget. Maine has a historic revenue surplus of approximately $1.233 million. A small portion of these funds could be used to extend MaineCare to adults who remain ineligible due to their immigration status, to provide cost-saving and lifesaving preventive, primary, and acute healthcare.  
In early March, the Appropriations and Financial Affairs Committee and the Health and Human Services Committee heard from members of the public on LD 1995, the Supplemental Budget bill. Hours of testimony on different parts of the budget included members of the public speaking passionately about the importance of healthcare coverage for immigrants.  
The second opportunity to expand health care access for all Mainers is LD 718: An Act to Improve the Health of Maine Residents by Closing Coverage Gaps in the MaineCare Program and the Children's Health Insurance Program. This bill first appeared last year. If passed and funded, LD 718 would extend MaineCare benefits to immigrant adults, irrespective of their immigration status. Learn more about the bill in our fact sheet, under the "policy/healthcare" on www.maineequaljustice.org.  
During last year's public hearing for LD 718, immigrant community members and advocates told legislators their stories of pain and resilience and the impacts of lack of healthcare coverage on their lives, families, and businesses. 
Rosy Ontiveros, a resident of Lewiston who assists others in her community without health insurance explained, "It's very difficult for all the people who don't go to the doctor for fear of not being attended to because of lack of ability to pay. …We have many stories of people who have broken bones and, because of not having access to health insurance, they have not sought the necessary therapies needed and the pain they experience is constant." 
Your voice really counts in making sure our neighbors, friends, and family who are immigrants have access to services like healthcare. Legislators need to know that their constituents support them when they do the right thing. To learn more and support LD 718, visit: maineequaljustice.org/get-involved/take-action/.  
As Rosa Ontiveros told the HHS Committee, "I trust in you, and I think with your help we can win this."