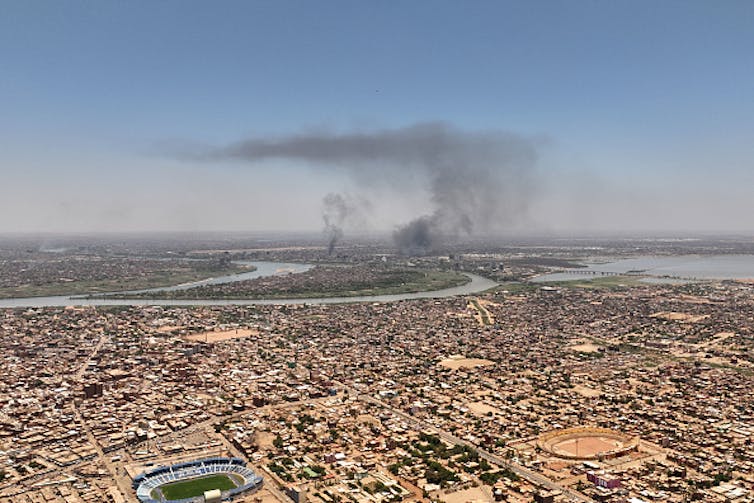 John Mukum Mbaku, Weber State University
Sudan, Africa's third largest country by land mass, shares borders with seven countries in an unstable region. This means that Sudan's current conflict will have economic, social and political ripple effects across a number of countries, including the Central African Republic, Egypt, Libya, Chad, South Sudan, Ethiopia and Eritrea.
The conflict might also affect countries further afield, including the US, Russia, the United Arab Emirates (UAE) and Saudi Arabia, which have close economic ties with Sudan. It could destabilise the Sahel region and the Horn of Africa and jeopardise US interests in these regions. It could also delay the ratification, by the yet-to-be-formed legislative assembly, of the agreement for Russia to build a naval base at Port Sudan. Finally, the conflict could interfere with trade between Sudan and the Gulf states – the UAE and Saudi Arabia.
Sudan's top exports are gold, which earned a total of US$2.85 billion in 2021, groundnuts (US$488 million), crude oil (US$385 million), and sheep and goats (US$239 million), all of which are sold primarily to the UAE, China, Saudi Arabia, India and Italy.
Sudan (and South Sudan) exported about 132,000 barrels per day of crude oil in 2021 with the UAE accounting for 45% of these exports. Sudan is also the world's top exporter of gum arabic, a key ingredient for many food industries. The harvest of this product has been disrupted by the conflict.
Sudan's main imports are raw sugar, refined petroleum, wheat, packaged medicines and cars, mainly from China, UAE, Saudi Arabia, India and Egypt. The current conflict could derail this trade and create economic problems for Sudan and its trading partners.
Sudan is not a major export market for these countries but they should care about the instability in Khartoum for at least two reasons. First, the conflict could destabilise the region and negatively affect the efforts of these countries to expand their export trade. Second, Sudan is located on the Red Sea. Instability could interfere with trade flows through the Suez Canal, restraining these countries' ability to trade with the rest of the world.
Port Sudan, which is about 169 nautical miles from Jeddah (Saudi Arabia), is an important travel point for thousands of Muslims from west and other parts of Africa who are embarking on the Hajj to Mecca through Jeddah Islamic Port. In addition, most Nigerian hajj air carriers transit through Sudanese airspace on their way to Mecca. Violent conflict in Sudan could force these carriers to seek alternative but more expensive and longer routes, a process that could prevent many Muslims from successfully performing this important religious ritual.
In addition, 90% of Sudan's external trade passes through Port Sudan. The port is also an important commercial sea gateway for neighbouring landlocked countries. Interruption of the port could worsen already acute shortages of key commodities, including especially food.
Port Sudan also has a container port that handles trade to and from various parts of the world. It has been argued that Russia is seeking to build a military base at Port Sudan in order to grant its warships access to and influence over one of the world's busiest and most contested sea lanes – the Suez Canal.
Ripple effect
A civil war in Sudan could spill into already violence-plagued neighbouring countries, such as Chad, the Central African Republic, South Sudan, Libya, Eritrea and Ethiopia.
Were Sudan's neighbours to get involved on either side of the conflict, the region could become embroiled in the civil war largely because communities in the border areas share a common heritage.
Two countries stand to suffer the most if the conflict escalates: Egypt and South Sudan.
Sudan straddles the Nile River. Its main tributaries meet at Khartoum and then flow downstream to water-hungry Egypt. Fragility in Khartoum could affect Egypt's fresh water supply and hence economic and social development.
Instability in Khartoum could also derail efforts to reach agreement on the filling and management of the Grand Ethiopian Renaissance Dam. That could create problems, not just for Egypt, Sudan and Ethiopia, but also for the entire Nile basin.
The Grand Ethiopian Renaissance Dam is a hydro-electric project which Cairo sees as a threat to its use of the Nile. Since Ethiopia began constructing the dam in 2011, Egypt has relied on Khartoum's cooperation to fight perceived threats to its water security.
Cairo might see Sudan's security situation as a threat to reaching a mutually acceptable tripartite treaty for the filling and management of the dam. A peaceful, democratic Sudan, thus, is important to Egypt and other Nile Basin countries.
Ninety percent of South Sudan's economy is based on oil, which is exported through Sudan to Port Sudan. Conflict in Khartoum could seriously interfere with oil shipments and force economic collapse in South Sudan.
External ties
Outside the African continent, three countries have significant interests in seeing Sudan return to peaceful coexistence: the Russian Federation, the US and the UAE.
The Russian Federation: Russia is interested primarily in gaining access to the country's enormous resources, which include gold, uranium, oil and its port facilities. Looking ahead, Russia also has much to lose. It has sought for some time to establish a military base at Port Sudan, which would host about 300 troops and give Russian warships access to and influence over the Suez Canal and the Red Sea.
Russia's hope is that its foothold in Sudan will give it better access to other countries in North Africa and the Horn of Africa. A full-blown civil war would delay or derail that.
The United States: Some foreign governments, such as the US, have indicated that they are interested in helping Sudan establish democratic institutions and a governing process undergirded by the rule of law. Others may want to place themselves in a position to exploit the country and its resources. However, since it signed on to the Abraham Accords, Sudan has emerged as an important player in efforts by Washington to improve diplomatic relations between Israel and the Arab States.
The United Arab Emirates (UAE): The UAE has military and commercial assets in Eritrea, Somaliland, Somalia and the southern coast of Yemen. It stands to benefit from a peaceful Sudan. Under the administration of Omar al-Bashir – the military leader who ruled Sudan for three decades until he was overthrown during a 2019 popular uprising – Sudan was a beneficiary of billions of dollars in aid from the UAE. The UAE has also benefited from the relationship. For example, Sudan has become a major exporter of gold to the UAE.
Finally, continued instability in Sudan could exacerbate the already serious humanitarian situation in many of Sudan's neighbours, such as Chad, which has received hundreds of thousands of Sudanese refugees.

John Mukum Mbaku, Professor, Weber State University
This article is republished from The Conversation under a Creative Commons license. Read the original article.