By Kathy Kilrain del Rio
This legislative session was a whirlwind, full of unusual pandemic twists: public hearings on Zoom and advocacy from home, then later in the State House, complete with masks and distancing. Fortunately, the pandemic has focused a lot of attention on the need for health care, and there's been good progress on getting more Mainers the affordable care they need.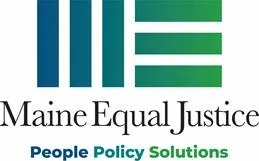 One of the biggest achievements is Maine's new comprehensive adult dental benefit for MaineCare, which is Maine's name for federal Medicaid insurance. The big driver of this success is Maine people, who showed up in person in previous years, and virtually this year, to share their stories and inspire lawmakers to pass LD 996 and this long-overdue benefit. The first bill to expand access to dental care in Maine was introduced 32 years ago!
With the support of Speaker Ryan Fecteau and many legislative champions, LD 996 passed with unanimous support. Gov. Janet Mills included dental care in her budget "change package." Ultimately, the policy was funded through that budget and signed into law in early July. Over the coming months, the Maine Department of Health and Human Services (DHHS) will work with a stakeholder group, through the MaineCare Advisory Committee, to determine the best way to roll out the new benefit, and DHHS will go through a rulemaking process.
Adult MaineCare members finally will be able to access this life-changing benefit in July 2022. And not only will more than 200,000 people be able to receive dental care, but this should generate an estimated economic return for Maine of $21.6 million each year. Anyone with questions about how to access this benefit can contact Maine Equal Justice.
Another big MEJ priority this year was LD 718, which would close harmful gaps in coverage in MaineCare and the Children's Health Insurance Program (CHIP) for a number of immigrants across our state. Policies that Congress implemented in the 1990s made accessing Medicaid and CHIP disproportionately difficult for immigrants and Brown, black, and other people of color. With bipartisan support, however, Maine chose to continue covering many immigrants until former Gov. Paul LePage cut that coverage in 2011. Currently, some immigrants can only access emergency MaineCare, which is extremely limited. So numerous immigrants to Maine who are our family, friends, and neighbors go without life-saving medication, screenings, and treatments.
More than 90 people testified in person or in writing during the virtual public hearing for LD 718. Legislators heard stories from health care providers, school staff, faith leaders, social workers, people without health care, and many others describing the many ways Mainers who are immigrants struggle to get care. With the support of Rep. Rachel Talbot Ross, who sponsored the bill, and the leadership from directly impacted immigrant communities, the bill passed out of committee and received a strong vote in the Maine House. Mills included part of the bill in her change package for the supplemental budget. That budget ultimately passed and was signed into law, expanding access to MaineCare and CHIP for people under 21 and anyone who is pregnant, regardless of immigration status. That coverage will begin July 1, 2022. 
Unfortunately, despite lobbying efforts, coverage for all income-eligible adults was not included in the budget. However, LD 718 was carried over, so the Legislature can continue to consider it in 2022. And we will continue to work hard to close this remaining gap in coverage. When Mainers voted to pass MaineCare expansion several years ago, they loudly and clearly said that they want everyone to have access to health care. By passing LD 718, we'll close the last gap in access to MaineCare for low-income Mainers. 
These are two of the many health care bills Maine Equal Justice worked on this year. More about health care bills is on the blog at maineequaljustice.org/blog/. MEJ welcomes involvement by members of the community who want to advocate on health care and other issues like housing justice, consumer rights, racial equity, and more. For more information, see maineequaljustice.org/get-involved/take-action/