Cecille Bitondo was born and raised in DR Congo, where she learned to cook from her mother, a fish seller. "In Africa, you sit next to your mom while she works, and she teaches you how to cook. I liked cooking back then, and I still love it now," said Bitondo. Her family ate a lot of fish while she was growing up, because of her mother's job. "We ate all kinds of fish – fresh, smoked, all kinds. I know many tricks for cooking fish." This recipe for smoked fish and vegetables is popular in DR Congo, as well as among Congolese people living in Maine. In fact, it is so popular that it can be a little challenging to get the fish, which tends to be bought up as soon as a shipment arrives. There are a variety of names for the fish – the one Bitondo uses in this recipe is "mungusu." Mungusu, also called ndjombo, is available in African stores, however other smoked fish can be substituted if mungusu is not in stock. Bitondo studies English through In Her Presence. She said she has found friendship and support from the program. Cooking is a fun part of the curriculum that allows women to share their culture and their skills in a supportive atmosphere, while practicing English. When she first arrived in Maine, a friend told her about the English classes for women, and she has since encouraged many others to participate.
Recipe
Amaranth (Bitekuteku in Lingala; amarante in French)
Smoked Fish
Onions
Peppers
Tomatoes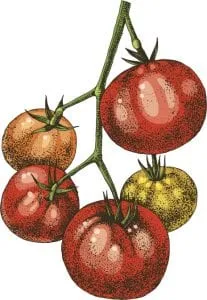 Celery
Chili pepper
Vegetable bouillon (Bitondo uses Maggi brand in powder form)
A little vegetable or olive oil
A few pinches of salt
Soak the fish in hot water for 10 minutes.
Wash the vegetables well and cut into large pieces.
Wash the fish in warm water, removing all the bones. Make sure that all sand is removed.
Put fish in a saucepan and add spices, salt, and oil.
Simmer for 10 minutes, then add the vegetables.
Simmer another 20 minutes and serve with rice, fufu, plantains, and/or manioc.