By: Deborah Ibonwa, Esq., Maine Equal Justice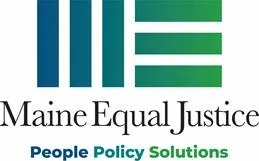 Many non-citizens, refugees, asylum seekers, and other people who do not have qualified immigration status are having difficulty when they apply for public benefits (programs that help people afford basic needs like food, housing, health care, and more). Why? Because the online program used by the Maine Department of Health and Human Services (DHHS) to confirm someone's immigration status, the Systematic Alien Verification for Entitlements Program (SAVE), doesn't always work or get people's status right.
SAVE is supposed to confirm that the U.S. Citizenship and Immigration Services (USCIS) has the same information about someone's claimed immigration status, based on official documents that they submit as evidence. But the USCIS system is not always up to date, which can cause DHHS to turn people down for benefits. In Maine, most immigrants are Black or Brown – and their families are often hurt by the problems with SAVE.
Maine Equal Justice and other partners have been advocating for better administration and clearer rules that everyone can understand and follow for the SAVE program. We have asked DHHS to codify the federal law in Maine's state regulations for TANF, SNAP and MaineCare, so immigrants understand how to know if they are eligible for benefits through SAVE. Maine does not have a policy in place to guide state agents, advocates, or clients, which means that too many families are going without needed support and benefits they're entitled to. We also want to make sure that the rules are correct, enforced, and communicated to those who are impacted.
DHHS is currently drafting these rules, and we hope to see them in the next few months. In the meantime, if you have had a problem applying for benefits, you should know that you are not alone, and you have legal rights. Maine Equal Justice frequently receives calls about problems with SAVE – either temporary benefits have not been issued, or clients have not been told that they have the right to benefits while they wait for DHHS to finish verifying their immigration status through SAVE. Be aware that you are legally entitled to get benefits during the time that DHHS is checking on the evidence you have about your immigration status. You should also be getting communication from the state that you have this right and how to exercise it.