By Northern Light Mercy Hospital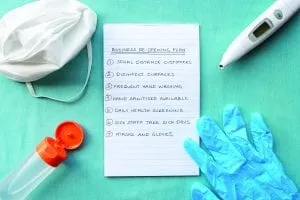 As we continue through this pandemic and all that it entails, we've heard from many organizations and businesses in Maine about the challenges they face as they seek to safely keep their doors open for employees and customers. While we've been navigating some of the same uncharted COVID-19 waters, we have learned a thing or two along the way and want to share some valuable tips and information with our community.
As a healthcare system, Northern Light Health has in-house experts who can offer guidance to help organizations safely welcome employees, customers, volunteers, and students. Just as many organizations across our state, we are working through these concerns every day in our ten hospitals and at our more than 100 other locations across Maine, and we look forward to continuing to partner with our communities as we work through this together.
As part of this work, we launched a weekly series of "Safe Return to Business" Zoom conferences. During these free Zoom sessions, our experts offer education and guidance to support the safe return to work for Maine organizations. Past topics included:
• Balancing on-site needs and employee accommodations
• Risk mitigation through infection prevention, communication, and de-escalation
• Helpful tips on facility modifications, PPE purchasing, and resiliency
• The impact of COVID-19 on food service, travel, and team culture
• Caring for employees: return to work guidelines, team building, and COVID-19 testing
We have new weekly topics planned through the end of August, and we welcome you to join us. To register for an upcoming Zoom session, view past presentations, or access resources and informational videos, please visit NorthernLightHealth.org/Resources/Safe-Return-to-Business.
To find out more about what Mercy Hospital is doing to keep our employees, patients, and visitors safe, please visit NorthernLightHealth.org/SafeCare.