By Sue Hamlett, Maine Equal Justice  
Many people in Maine are worried about heating costs this winter, especially with the rising cost of electricity and heating oil. Maine Equal Justice has a new guide to answer your questions about getting help with affording your heating costs.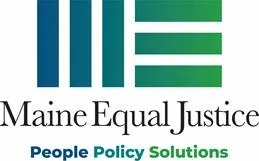 The Home Energy Assistance Program, or HEAP (also called LIHEAP), helps Mainers with low and moderate incomes pay for their heating costs. HEAP benefits can help pay for heating fuel, including firewood, oil, electricity, and gas. The amount of benefits that households can get depends on household size, income, heating costs, and other factors. Benefits are usually paid directly to your heating and electric companies. You can apply for this benefit at your local Community Action Program (CAP) agency.
You're eligible for HEAP if your income is at or below the amount in the chart at mainehousing.org/charts/HEAP-Income-Elibility, for your family size. If you have SNAP (food assistance) or TANF, you just need to show proof that you get that benefit to get HEAP, too. In fact, applying for HEAP helps make sure you get all the benefits you're entitled to receive, including getting a SNAP benefit or a higher SNAP benefit, as well as help with other utility bills.
If your heat is included in your rent, note that you can still apply for HEAP. If you think you're eligible for help, you should apply for HEAP as early as possible because the application process can take a number of weeks. Applying early will not negatively impact your benefit amount. There is no downside to applying as early as possible.
If you need heating help right now and can't wait for an appointment, the Energy Crisis Assistance Program (ECIP) is available between November 1 and April 30. If you have a heating emergency, call your local CAP agency and tell them that you need emergency heating assistance. Once you are found eligible, you should get help within 48 hours. You may be eligible to get emergency heating assistance if:
Your 275 gallon oil tank is at or below one-quarter full;
Your propane tank reads one-quarter or less;
You have a seven-day supply or less of other heating fuel;
OR you have an electrical disconnect notice and can't negotiate a reasonable payment plan to keep your electricity on, and your primary heating system requires electricity to operate.
In addition, if you are eligible for HEAP, you may be eligible for other benefits to help make ends meet. If you are interested in any of these other benefits, contact your CAP agency or tell your HEAP worker that you would like to apply for these programs:
Applying for any kind of help, including HEAP, takes time, and the process can be confusing. If you have questions or concerns, contact Maine Equal Justice through our website (maineequaljustice.org) or by calling (207) 888-9788.