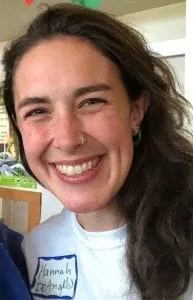 Hannah DeAngelis is the Program Director of Maine's only refugee resettlement program, Catholic Charities Refugee and Immigration Services (RIS). In her capacity as program director, Ms. DeAngelis oversees a staff that provides a broad range of essential services to a very vulnerable population. According to the United Nations High Commissioner on Refugees (UNHCR), a refugee is "Any person who is outside their country of origin and unable or unwilling to return there or to avail themselves of its protection, on account of a well-founded fear of persecution for reasons of race, religion, nationality, membership in a particular group, or political opinion." Many of the people RIS serves have experienced trauma, and RIS case workers are often the first people to welcome them to Maine at this turning point in their lives.
"Every day I feel incredibly honored to work alongside our staff at the Refugee and Immigration Services," Ms. DeAngelis said. "We have 14 staff people (reduced from 24 staff people two years ago, due to federal funding cuts) from 12 different countries working here, and they do compassionate work."
Ms. DeAngelis' interest in social justice work began when she was a child. Among other achievements, she once led a school walkout in Readfield, Maine, to protest the removal of the rainbow flag. She credits her family and the Readfield community with having been "enormously supportive" while she was growing up. After college and five years in the Boston area, where she worked in the nonprofit sector and Boston public schools, she returned to Maine as the Assistant Director of Programs at Refugee and Immigration Services (RIS). For two years, she worked under Tarlan Ahmadov.
"He was a great boss," she said. "I learned alongside him. He was a trusting supervisor, and I learned the ropes from him." Ms. DeAngelis become Program Director two years ago, when Mr. Ahmadov became State Refugee Coordinator for Catholic Charities Maine.
The services that RIS provides include case management, employment services, elder services, family reunification services, and mentoring programs, among others. RIS is contracted to serve primary refugees, who have been resettled in Maine directly from other countries, during their first 30-90 days in the U.S. In Portland, RIS is also contracted to provide limited case management services to secondary migrants – those who have moved to Maine from other states, where they were initially resettled – as well as to asylees. In Lewiston, RIS can provide limited case management services to secondary migrants.
Maine's refugees come from refugee camps, where many of them have lived for decades. In Africa, these camps are located primarily in Democratic Republic of Congo, Tanzania, Botswana, Kenya, Uganda, and Zambia. According to the United Nations High Commissioner on Refugees, "An unprecedented 70.8 million people around the world have been forced from home. Among them are nearly 25.9 million refugees, over half of whom are under the age of 18."
The United States has admitted 21,260 refugees so far in fiscal year 2019 (which ends October 1, 2019). In 2016, by comparison, 84,989 refugees resettled in the United States. According to Refugee Council USA, "The first half of Fiscal Year 2019 saw a 70% decline in refugee arrivals when compared to the first half of Fiscal Year 2017, with a 90% reduction in the resettlement of Muslim refugees overall and a 48% reduction in Christian refugees, including targeted Christian minorities." According to Catholic Charities Maine, 675 refugees were resettled in Maine in fiscal year 2016. The number so far for fiscal year 2019 is 131.
In addition to significant reductions in numbers of refugees resettled since 2016, Migration Policy Institute reports, "Funding for both reception and placement services, and for other services that assist arriving refugees, have been reduced, causing a number of local affiliates of the nine national resettlement agencies to scale back or end their resettlement programs."
Reflecting on her work with refugee resettlement under the current administration, Ms. DeAngelis said, "The systemic challenges can feel overwhelming. The work is not easy." On the positive side, she noted a significant improvement in state-level communication within Maine in the new administration.
Ms. DeAngelis praised the work Catholic Charities has done since it became the primary agency for resettling refugees in Maine in 1975. RIS helps with the "obstacles of the everyday" – medical services, work eligibility, affordable housing, furnishings, landlord negotiations. She noted that finding affordable housing for new arrivals in Maine is extremely difficult and praised South Portland's Airbnb regulations as one step toward increasing affordable housing stock.
"These refugees have been through unimaginable trauma, which is isolating and overwhelming," Ms. DeAngelis said. She is committed to increasing the personal wellness assistance RIS provides. "We need to take care of their emotional needs, as well as help them to get by." She said that refugees' mental and emotional health is partly tied to family reunification. Caseworkers are increasingly trying to introduce new arrivals to their neighbors, and are looking for any social connections they can find in the community, such as immigrant-led associations.
For herself, Ms. DeAngelis plans to make Portland her long-term home. "Portland has always been a very welcoming city and, since Trump took office, people in Portland are more proactive, more involved in advocacy work around immigration." She expressed satisfaction at living and working in the same community. "I like seeing people I work with in the grocery store, and doing things like attending local events that are connected to people I work with."
Mainers interested in helping refugees are encouraged to contact Baba Ly, Assistant Director of Refugee and Immigration Services, at [email protected]. Volunteers are needed in the American Friends Program and the Senior Companion Program. The time commitment for each program is approximately two hours per week, with a six-month commitment. Volunteers provide practical help – such as rides to the grocery store, assistance toward obtaining a driver's license, English conversation – as well as companionship.