By Lillian Lema
Felix Hagenimana, born and raised in Rwanda, has been a practicing immigration lawyer in Maine since 2018 when he opened his own law firm, Hagenimana Law. He has also worked part time as an asylum outreach attorney with the Immigrant Legacy Advocacy Project since 2019. His personal and professional journey to become a successful lawyer in Maine was circuitous and difficult, but he derives great satisfaction from his current work – particularly helping asylum seekers achieve their dream of staying in Maine.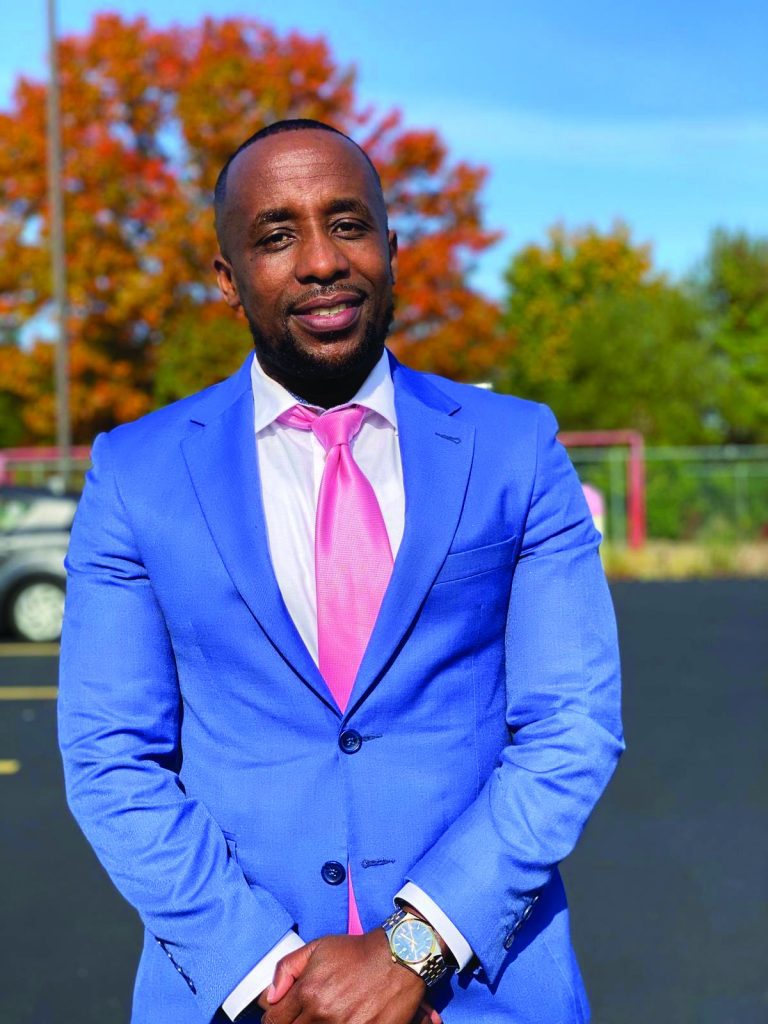 "Life stopped after the genocide…education stopped…there were dead bodies everywhere."
— Felix Hagenimana
Hagenimana's days are crammed full of many obligations – meetings with clients, writing legal briefs, collecting documents, interviewing potential clients, attending hearings. And he sometimes works pro bono, or for reduced fees – but he said that the feeling of contentment he gets from helping asylum seekers is a huge reward.
"Asylum cases are difficult and take tremendous time to put together…about 100-200 hours – and many asylum seekers don't have the money to pay for that. There are times when people will represent themselves, but that usually doesn't go well…I'm not going to get rich, but I'm happy with the work I do," he said.
Hagenimana is a survivor of the 1994 Genocide against the Tutsi in Rwanda that took place from April 7 to July 15 of that year – a period of 100 days during which over half a million people were killed. He was 12 years old when he witnessed the horrors of the genocide firsthand.
"Life stopped after the genocide…education stopped…there were dead bodies everywhere," he said.  
But he believes the resilience he was forced to learn as a young person played a role in helping him overcome the many hurdles he faced on the way to his eventual professional success.
"I think everything works together – the work I do, the languages I know, the traumas I've lived through …have given me resilience…hearing the stories [of clients] can give you trauma, but all I've been through has made me emotionally strong," he said.
At the age of 13, he was able to resume his education, but in Rwanda the government chooses the field of study for students, unlike in the U.S.
"You finish primary school and then you take a test, which helps the government determine the area of study you will be assigned."
In his case, the test outcomes indicated science, specifically agriculture, but although he was very good at math and science, he wasn't passionate about studying agriculture. It was languages that interested him, and he managed to earn a bachelor's degree in linguistics from a joint Rwanda-South Africa university program. He is fluent in English, French, Kirundi, and Kinyarwanda, and his first career was as a linguist, a Bible translator, and a consultant for the BBC. He also authored Fundamentals of Kinyarwanda, a language textbook.
In 2011, he moved to the U.S. He was 30 years old, and decided to earn a second bachelor's degree, at Western Governors University in Utah, in business administration. At the time, Hagenimana's immigration status was still pending, which meant that he wasn't eligible for either financial aid or federal loans. He worked a number of different jobs while he studied – including retail, as a security guard, and as a shoe salesman. Eventually he moved to San Francisco, but not for professional reasons.
"I'd seen San Francisco in movies growing up and loved the scenery!" he joked. In California he got a job assisting a University of California at Berkeley professor who was creating literacy assessment tools to evaluate student reading levels. And on the side, he volunteered at the University of California refugee aid clinic as an interpreter for French speaking refugees – an experience that was formative.
"It was during this time that I saw myself as someone who could help others, connect with them," he said. "In Rwanda, there is no shortage of lawyers, but here there is, so I wanted to see if I could do my part."
Hagenimana applied to various law schools, and eventually enrolled in the University of Maine School of Law as a McKusick Diversity Fellow. By this time, Hagenimana's immigration status had changed, and he was eligible for financial aid and federal loans; he believes law school would not have been possible without this change in his immigration status. He attended law school full time while also working full time as a direct support professional in order to support his family back in Africa.
"Sometimes I was working 80 hours a week, and at the same time I was going to school. A lot of the students in my classes weren't working, and I would be nervous to tell them the amount of hours I was working – because they would comment, 'That's insane!' "
Law school was also challenging for reasons other than financial. He hadn't grown up speaking English, and he was not computer literate – which mattered in law school, since some exams were timed, and he couldn't type quickly. Also, he didn't know how to ask for help. "Sometimes it's difficult to go ask for help – and sometimes people don't feel comfortable offering help because they don't know how you will receive it," he explained.
Hagenimana was the commencement speaker at his graduation, and is now pleased to be using his legal expertise to help others. And he believes Maine stands to gain from immigrants whose asylum claims are granted and that immigrants are central to solving the problems associated with an aging population.
"We can't survive without immigrants. Maine is one of the whitest states in the country, and has the highest population of older people." Over 90% of the staff he worked with as a direct support professional while attending law school were immigrants, he said. And in addition to the important work they do, they pay taxes – including Social Security taxes – even when they have no guarantee that they will become naturalized.
Hagenimana noted that the immigration system takes a very long time to determine the asylum claims of people who come to the U.S., even if they have an employment sponsor. Immigration reform was on the docket years ago, but keeps being pushed back.
"In 2001, there was going to be an immigration reform bill, but then 9/11 happened, which caused immigration to be very intertwined with national security. Immigration has become very polarized, but it once used to be a nonpartisan issue," he said.
Despite everything, he said that America is still a beacon of hope for people all across the world who are suffering. And he believes that change will come.
"There is a long way to go, but in the U.S. we are always willing to progress," he said, noting that when he came to America he didn't have any money – but America gave him a chance, and he is very grateful for that. He believes that practicing immigration law is one way to give back to the country that helped him. He is also serving on the board of three nonprofit organizations: Hope Acts, Rwanda Diaspora in Maine, and American Civil Liberties Union of Maine.
What advice does Hagenimana have for other immigrants? Connect with your roots, for a sense of belonging, keep your languages of origin, and get an education.
"Go to school, learn something, travel the world, connect with others," he said. "Education will help you understand the world and how it works."
And remember the next generation. He says there is nothing more heartwarming than hearing the young children of his clients say, "I want to be a lawyer when I grow up!" Even if the child doesn't end up pursuing a career in law, at least they have known someone who looks like them who has achieved personal and professional satisfaction in their career choice. And that's good for the individual, but also for society.