By Alex Carter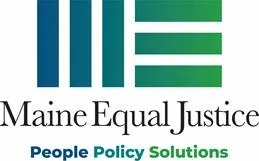 Important changes to MaineCare and the Supplemental Nutrition Assistance Program (SNAP) are coming this summer, and some families will be eligible to receive more support. In particular, many more immigrants will be able to get healthcare through MaineCare and more food support from SNAP. Unfortunately, many gaps still exist, but Maine Equal Justice will keep advocating alongside Maine's immigrant communities and allies for more and better coverage.
Changes in MaineCare expected
Last year, Maine passed legislation expanding MaineCare coverage, and that coverage will begin July 1. The result is that low-income people who are under 21, and pregnant women – regardless of their immigration status (including immigrants without documentation) – will now be able to get full healthcare coverage. Beginning July 1, anyone who currently has Emergency MaineCare, and falls into one of those categories (under 21 or pregnant) will automatically be enrolled in the new full coverage. Anyone who is newly pregnant, and had Emergency MaineCare before the pregnancy, should either update the Department of Health and Human Services about the pregnancy or apply for MaineCare again.
Those who are under 21 or pregnant, and are not enrolled in Emergency MaineCare, can begin completing a MaineCare application on July 1. Information about applying is available from Maine Equal Justice: www.maineequaljustice.org and at Consumers for Affordable Health Care: www.mainecahc.org.
Enrolling in MaineCare or any health coverage will not affect a "public charge" decision. There has been a lot of confusion about this because of some policy changes during the last presidency. The good news is that those changes are no longer in place. The only healthcare that could affect a public charge decision is being in institutionalized care like a nursing home, or using General Assistance for medical costs. If you have questions about the public charge rule and public benefits, call Maine Equal Justice or visit protectingimmigrantfamilies.org/know-your-rights/.
We know many adults in Maine who are immigrants still don't qualify for MaineCare, and we believe that everyone deserves healthcare. We won't give up until all Mainers can get the health care they need to be well and care for their families. To find out what other health care options may be available, please contact Consumers for Affordable Health Care at (800) 838-0388.
Food help for families with young and school-age children
There's more good news for families with kids. School meals are free for all students in Maine, no matter their income or immigration status. Families are encouraged to fill out a school meal benefit application ( www.nlappscloud.com/) to see if they are eligible for additional grocery benefits through the Pandemic Electronic Benefit Transfer (P-EBT) program.
P-EBT and Summer P-EBT are temporary food assistance for students who qualify for free or reduced lunch, have COVID-19 related absences from school, and a COVID-related school closure, and to help families with meal costs when schools are out for the summer. These extra benefits can help families with food costs they incurred because of missed school meals.
If a child receives Supplemental Nutrition Assistance Program (SNAP) benefits (food assistance), they will automatically be enrolled in P-EBT and Summer P-EBT. If a child can't get SNAP because of their immigration status, they can still get P-EBT and Summer P-EBT. Parents need to complete a school meal benefit application at www.nlappscloud.com/. For more information about P-EBT, please go to www.feedkids.me.
To learn more about changing our public policies to make Maine a healthier, more equitable place to live and raise a family, we invite you to sign up to volunteer with us at Maine Equal Justice: maineequaljustice.org/get-involved/take-action/.