By Angelina Klouthis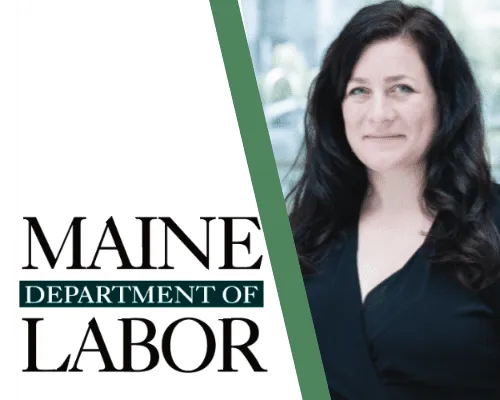 This month, instead of my usual efforts to uplift a program or resource in the community, I'm going to introduce myself and give you more of my background. I currently serve as the Director of Innovation and Strategy for the Bureau of Employment Services (BES) at the Maine Department of Labor (MDOL). I love putting the spotlight on the amazing training programs, job opportunities, and resources that I get to help shape every day. 
I grew up in Lewiston, and as soon as I had the chance, I jumped at an opportunity to expand my horizons. My first big break of my professional career, I had the opportunity to work in Niger as a small animal husbandry consultant and grant writer for the National Agriculture Research Institute. From there, I continued to work in program coordination in Haiti, Nicaragua, Colombia, Cameroon, and Jamaica. My work was designed to help grassroots organizations get connected to training, tools, and technology. I earned a master's degree in Bogotá, Colombia, at the Universidad de los Andes. Before coming to MDOL, I worked in the City of Portland Office of Economic Opportunity. There I had the chance to work with people from diverse backgrounds to help foster a sense of belonging.
Despite growing up in Maine, I was trained abroad. By some definitions I am a foreign-trained professional. I really enjoy working with people who have international work experience. In my experience, it is a myth that professional experience or education outside of the U.S. is not valued by employers. I love working with employers to understand the skills foreign-trained professionals bring, and with individuals to help them effectively show that their past experiences can be a huge asset. In my role at BES, I oversee four different innovative programs, where my teammates work to uplift or upskill people from a variety of diverse backgrounds.
Notably, I oversee our Healthcare Initiatives, which feature Healthcare Career Navigators. If you are interested in working in healthcare, navigators can help guide your career pathway. There is also a tuition remission program that can pay for the training of current or separated healthcare workers. You can learn more at maine.gov/healthcaretrainingforme. The team is amazing at getting people connected to different programs that can help with transportation barriers, childcare, and other supports.
In addition to Healthcare Initiatives, I am excited to be part of the launch of new programs such as the Workers Fund, the next phase of Progressive Employment, and the Peer Workforce Navigators. Being part of the Bureau of Employment Services team gives me a unique opportunity to foster opportunities for everyone in the state of Maine and hopefully recruit some more workers to our great state.