Yanditswe na Alex Carter, Maine Equal Justice Policy Advocate 
Ese gushyigikira abimukira hamwe n'abashaka gutangira ubuzima bundi bushya ahari umutekano kure y'itotezwa, intambara n'igitugu bivuze iki kuri Maine? Birenze gufungura inzugi zacu- bivuze ko tugomba kumenya ko abashyitsi bafite aho batura, ibyo kurya, ubushobozi bwo gukora ndetse no gushyigikira imiryango yabo ari nako babasha kugera kuri serivisi z'ibanze z'ubuzima haba ku mibiri yabo ndetse n'ubuzima bwabo bwo mumutwe. Umwaka ushize, Guverineri Janet Mills ndetse n'inteko ishinga amategeko ya Maine baguye MaineCare ku bagore batwite bafite ubushobozi bubashyira mu bakwiye kubona ubu bwishingizi ndetse n'abari munsi y'imyaka 21, hatitawe kuri sitati yabo y'ubwimukira. Ibi bivuze ko guhera tariki 1 z'ukwa Karindwi 2022, benshi mu rubyiruko rwa Maine, abafite ubushobozi bukiri buke bazaba bemerewe kwiyandikisha ngo bahabwe ubwishingizi bwo kwivuza binyuze muri MaineCare.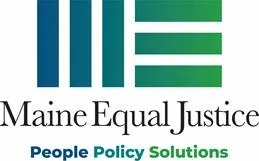 Niba ukeka ko wowe cyangwa umwana we ashobora kuba yakwemererwa uyu mwaka, cyangwa se ufite ikibazo wabaza ku bijyanye no kwiyandikisha bizatangira mu kwa karindwi, wahamagara urwego rufasha abakeneye ubuvuzi buhendutse kuri (800) 965-7476. Niba ukeka ko wangiwe mu buryo butari bwo, cyangwa se ukaba uri kugorwa no kwiyandikisha, wahamagara Maine Equal Justice kuri (866) 626-7059. Iyi numero ifite aho waca uhitamo ururimi wifuza gukoresha.
While the expansion of MaineCare to youth and pregnant people is cause for celebration, many immigrant adults still fall into the MaineCare coverage gap and cannot afford the healthcare they desperately need.  
There are two opportunities during this short legislative session to right this wrong!  
The first is the 2022 Supplemental Budget. Maine has a historic revenue surplus of approximately $1.233 million. A small portion of these funds could be used to extend MaineCare to adults who remain ineligible due to their immigration status, to provide cost-saving and lifesaving preventive, primary, and acute healthcare.  
In early March, the Appropriations and Financial Affairs Committee and the Health and Human Services Committee heard from members of the public on LD 1995, the Supplemental Budget bill. Hours of testimony on different parts of the budget included members of the public speaking passionately about the importance of healthcare coverage for immigrants.  
The second opportunity to expand health care access for all Mainers is LD 718: An Act to Improve the Health of Maine Residents by Closing Coverage Gaps in the MaineCare Program and the Children's Health Insurance Program. This bill first appeared last year. If passed and funded, LD 718 would extend MaineCare benefits to immigrant adults, irrespective of their immigration status. Learn more about the bill in our fact sheet, under the "policy/healthcare" on www.maineequaljustice.org.  
During last year's public hearing for LD 718, immigrant community members and advocates told legislators their stories of pain and resilience and the impacts of lack of healthcare coverage on their lives, families, and businesses. 
Rosy Ontiveros, a resident of Lewiston who assists others in her community without health insurance explained, "It's very difficult for all the people who don't go to the doctor for fear of not being attended to because of lack of ability to pay. …We have many stories of people who have broken bones and, because of not having access to health insurance, they have not sought the necessary therapies needed and the pain they experience is constant." 
Your voice really counts in making sure our neighbors, friends, and family who are immigrants have access to services like healthcare. Legislators need to know that their constituents support them when they do the right thing. To learn more and support LD 718, visit: maineequaljustice.org/get-involved/take-action/.  
As Rosa Ontiveros told the HHS Committee, "I trust in you, and I think with your help we can win this."