By Kathreen Harrison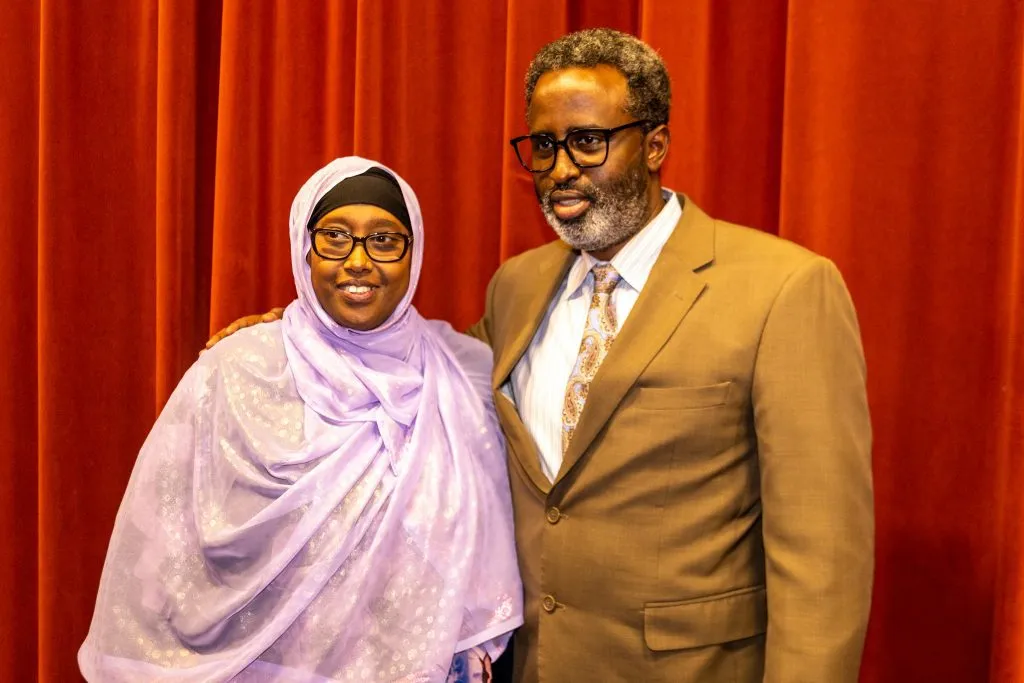 When South Portland's new mayor, Deqa Dhalac, was running (successfully) in South Portland's Special Municipal Election in 2018 to fill a recently-vacated city council seat, she told Amjambo Africa, "I want to unite people – bring all of South Portland together to work on the issues all residents of South Portland care about."
In 2018, her goal seemed ambitious for a female Somali immigrant in one of the nation's whitest states. Fast forward to December 6, 2021- just three years later. That was when the entire South Portland city council, along with an auditorium full of well-wishers, rose to their feet in a standing ovation for Dhalac as she was installed mayor of Maine's fourth largest city, South Portland. Clearly, she had the unified backing of the Council, which elected her unanimously to her new position.
Dhalac was raised in an educated family in Mogadishu and arrived in the U.S. already speaking English – her father spoke four languages, and had her tutored as a child in English, Italian, and Arabic. A powerful woman, Mayor Dhalac is known to people all over the state for her fierce work ethic, strong ideals, passion for helping Maine, and skills honed by two master's degrees, a background in social work, and years of extensive professional and leadership experience. She has lived in the U.S. for twenty-nine years; in South Portland for over thirteen years; and raised and educated her two children in South Portland.
During her first two terms as city councilor, Dhalac successfully encouraged South Portland to join Cities for Citizenship, a national initiative to encourage citizenship and civic engagement. She helped pass an important 2019 resolution supporting accelerated climate action. And she helped lead the City's response to the murder of George Floyd.
"When George Floyd was murdered, it really hit home for me," she told Amjambo Africa in October, 2020. So she presented a resolution, affirmed by unanimous vote of the city council, condemning the murder of George Floyd and stating that racism and bigotry would not be tolerated in South Portland.
But Dhalac didn't stop there. "I didn't want us to make a statement and think that work was done. We have to look at human beings in general – not just a small, privileged group, but also the elderly, disabled, LGBTQ." Together with Pedro Vazquez and Margaret Brownlee, she began working toward formation of the permanent South Portland Human Rights Commission, which passed easily through the Council. Unlike many such commissions formed in the aftermath of George Floyd's murder, the one in South Portland is permanent.
"I wanted to create a commission that would be long-term, and not easy to get rid of, unlike many such commissions and steering committees, which are ad hoc, set up for the short term."
Dhalac's new position as Mayor of South Portland is widely touted as significant well beyond Maine's state borders. CNN ran a story on her election with the headline A Maine city that's 90% White now has a Somali mayor https://www.cnn.com/2021/12/07/us/maine-mayor-deqa-dhalac-somali-cec/index.html
Pious Ali, in 2013 the first African-born Muslim to be elected to public office in Maine, and now Portland's longest-serving city councilor, reflected, "I would never have thought that eight years down the road we would have an African immigrant Muslim woman be mayor of Maine's fourth largest city … it is amazing, good for my daughter and other immigrant girls to see someone like them in a visible, prominent role. It's important."
"Make the change the world needs." 2020.
With Portland School Board member Abusana Micky Bondo, former Cape Elizabeth School Board member M. Nasir Shir, former Lewiston City Councilor from Ward 1 Safiya Khalid, Portland Mayor Pro-tem Pious Ali in 2019.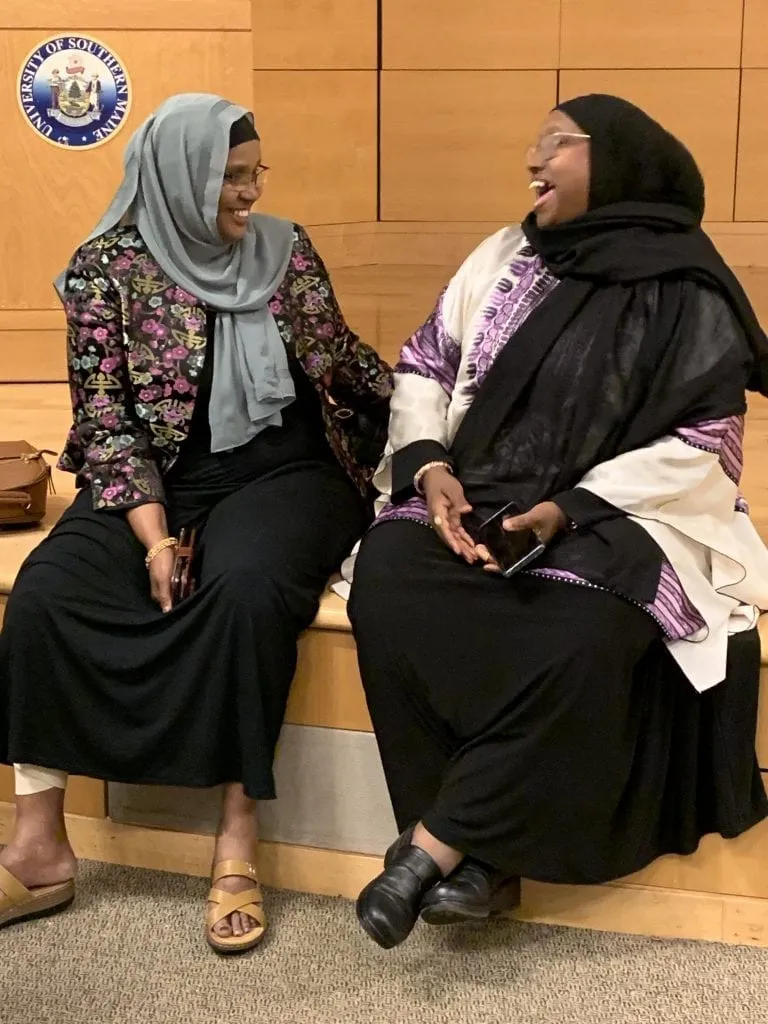 Eng. Nadifa Osman shares a laugh with Deqa Dhalac. 2019.