As a tenant, you have the right to live in safe spaces with healthy conditions. You have the right to adequate notice before being evicted, and you can't be evicted unless you're brought to court and a judge issues an order to make you leave the property.
Maine Equal Justice (MEJ) and Pine Tree Legal Assistance (PTLA) provide legal representation to tenants who have low income, including immigrants. When you have an issue with your landlord and need help, you should call PTLA first. Iff they say you are not eligible for their services, then you should contact Maine Equal Justice. If you get a letter from your landlord, or if you hear from your landlord that you might be getting kicked out, reach out for legal help. You should not leave your home without knowing your options and rights, and do not assume that there is nothing you can do to defend yourself, or that there is no one to help you.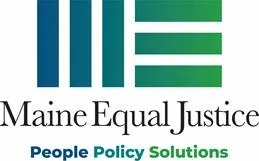 In fact, Maine Equal Justice and Pine Tree lawyers have won several legal cases in eviction court for Mainers who are non-citizens. Recently, a Maine Equal Justice attorney met a tenant – who is also an asylum seeker – at the Portland courthouse. The tenant asked for help because his landlord said he owed more than $1,000 in rent, and he thought he had paid everything and had receipts. Our attorney talked to the landlord's lawyer and found out the tenant had missed one month's rent when he'd been laid off. We helped the tenant apply for Emergency Rental Assistance (ERA) to pay the rent that was owed, and the landlord agreed to hold off on the eviction.
In order to evict a tenant, a landlord has to follow certain rules. Having a lawyer's help in eviction court is very valuable: we can make sure your landlord followed the rules, get you a language interpreter, talk to your landlord or landlord's lawyer, and represent you in front of the judge. Studies have shown that tenants who have a lawyer in an eviction are much more likely to keep their home.
Maine law also requires landlords to keep your apartment safe, free of bug infestations, and warm in the winter. If your landlord has failed to do these things, a lawyer may be able to help you get your landlord to make needed repairs.
We have heard from clients and community partner organizations that there is fear in some immigrant communities that going to court to defend yourself against an eviction, or asking for your landlord to fix problems in your apartment, will harm your immigration relief application process. This is not true. Your landlord cannot harass you or discriminate against you for your nationality, race, ethnicity, and many other things.
For more help, you can call PTLA during their intake hours. You can find the hours for your local PTLA office by visiting this website: www.ptla.org/contact-us.
If you have any questions, you can also contact Maine Equal Justice's Legal Service Department at (207) 888-9788 or fill out a form on our website at maineequaljustice.org/contact-us/.
You should contact the Immigrant Legal Advocacy Project (ILAP) if you need help with your immigration questions (not questions about your housing). Right now, ILAP is only accepting emergency cases. You can write them an email in your language at [email protected]. They will respond within three business days. For more information, see their website at: ilapmaine.org/get-legal-help.