By Danielle Roslevich | Photos Joseph Shaw
Living through the COVID-19 pandemic over the past 18 months has been hard for many people and especially difficult for students. "I Wish My Teacher Knew…" is an art exhibition on display at the Lewiston Public Library, conceived by Lewiston High School art educators Deanna Ehrhardt and Sarah Greaney as a way for young people to share the emotional toll of studying virtually. The exhibition features work by 65 students, and is presented in collaboration with L/A Arts, the local community arts center in Lewiston.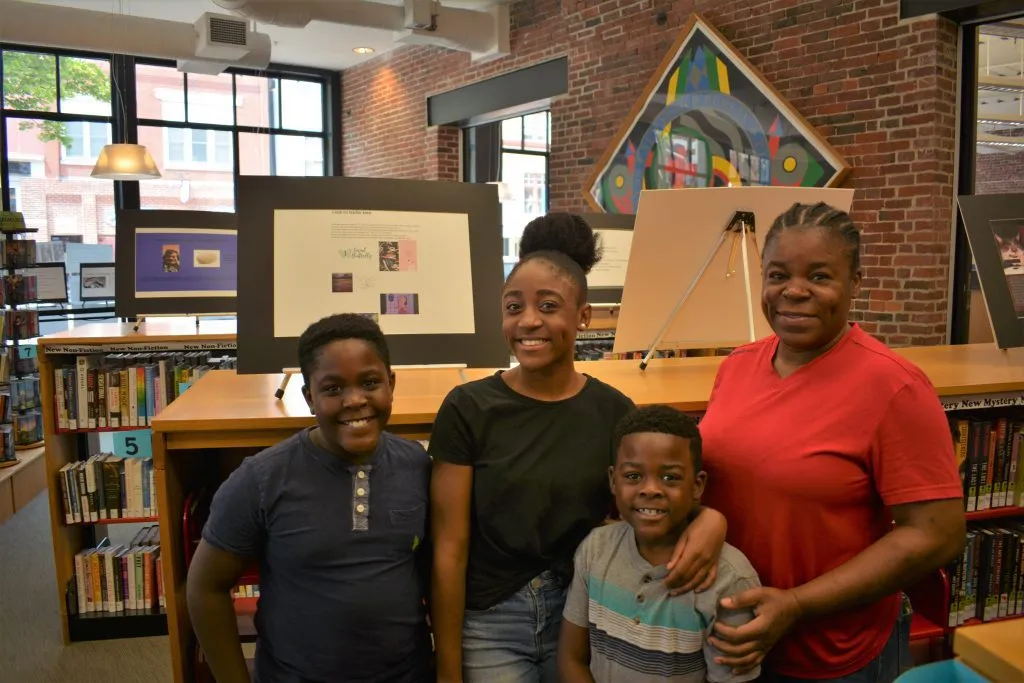 "We needed to show people what is really happening with our kids," said Ehrhardt. "In COVID, I could see our students become even more voiceless because of the wall that digital learning created." Ehrhardt worked with Greaney, an education technician at the time (now fully certified as a teacher), to develop an assignment for her art students: a digital piece using Google Slide or Google Doc that required a combination of text, photos, and a healthy dose of introspection.

Students shared the emotional stress of attending school in the digital learning era, such as perceiving home as a personal environment that should remain separate from school, not one where cameras are turned on during Zoom classes. The students said that many who are insecure would be more likely to participate remotely if they were able to just use the microphone, or just the chat feature, rather than being forced to have their cameras on, too.

The students said they often felt disregarded by teachers didn't offer enough one-on-one attention, in the absence of in-person opportunities to connect. And they felt overwhelmed by too many assignments during the long, unplanned, initial adjustment to the pandemic and online learning.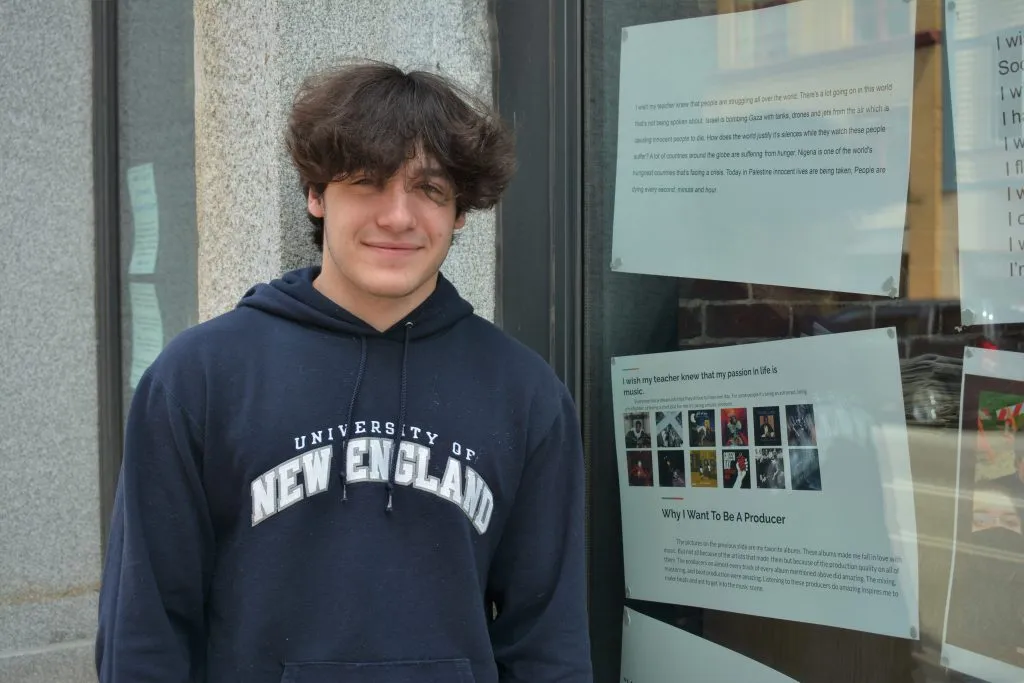 "I Wish My Teacher Knew…" was created as an opportunity for the students to share their struggles.
"We needed to give the kids a platform, and we need to get [what they created] out there," said Greaney. "It is important for their teachers, parents, community leaders, and other young people to see how these students feel…. Bringing these voices to the community is important."

Gavin Adams and Naisha Francisco, two students from Ehrhardt's classes, recognize the "wall" Ehrhardt talks about. "I was so used to the routine of going to school every day, and this was brand new and just dumped on me," said Gavin. "And then I had COVID – I had to recover and then get back to learning with Zoom again. I was already so stressed out to begin with."

Ehrhardt said "we are trying and doing our best" was the number one message the students wanted to express through their art, with a close second being their struggles with mental health.

Ehrhardt said that many students are happy that some adults were concerned enough about how they felt to want to give them a chance to share it.

Teachers only see the tip of the iceberg," Greaney said. Gavin and Naisha agreed, adding that they were inspired to let others know, through their art, that they are more complex individuals than they are able to show in school.
"I wanted people to understand that I have different sides of me. I am confident, but I can be shy, and teachers only get to see a small portion of me usually," Naisha said. "I am new to Maine from Texas. I was starting my first year of high school in a new state. Being new, it was already hard to socialize and communicate. It was just extremely hard adjusting and not knowing anyone."

Gavin said he believes teachers do not recognize the good things he is capable of doing, and he wants to assure his teachers, along with his family, that he is looking ahead to the future and trying his best in school.

Some students created art about the difficulties they face as New Mainers, and what they left behind when they had to move to the United States and start life anew in Maine. They also shared what inspires them now that they are here.

All the participants were excited to display their work outside of school, and hope the show inspires others to speak up about the way they feel and recognize they are probably not alone. In particular, Naisha hopes others in the African American community will be inspired.
"I Wish My Teacher Knew…" was the anchor show in Lewiston's first live Art Walk since the pandemic began. The exhibit will be on display at Lewiston Public Library, 200 Libson St., until August 15