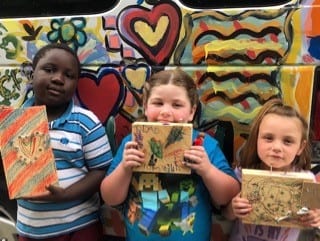 On certain afternoons every week, community rooms in the Lewiston Public Library and in several Lewiston and Auburn neighborhoods are filled with children, visual art, music. The kids are creating art and interacting with the art therapists and teaching artists of ArtVan. A mobile arts therapy organization, ArtVan's mission is to provide a creative and collaborative environment for youth who have little or no access to the arts. ArtVan activities encourage youth to fully express their imaginations, relationships, and experiences within themselves, among their peers, and across their communities. Many of the children in the Lewiston and Auburn programs are of African origin, primarily Somali.
Executive Director Jamie Silvestri is an expressive arts therapist who started ArtVan in Bath, Maine, in 2004, as a collaboration with the City of Bath's Community Development Office. The intent was to provide under-resourced neighborhoods with a quality, therapeutic arts program to enrich the lives of local youth who did not have access to social services and recreational activities. Encouraged by high attendance levels, enthusiastic participants, and grateful parents, ArtVan has continued its services for 15 years, with extensive community and foundation support. ArtVan now operates free afterschool and summer programs in Bath, Biddeford, and Brunswick and, since 2006, has been at the Lewiston Public Library and "Tree Streets Neighborhood," and has been at Auburn's Family Development and Broadview Acres neighborhoods since 2008. ArtVan also has a program in Lewiston Public Schools and other organizations around southern Maine.
Even though art therapy is a serious undertaking, on the surface, ArtVan sessions are all about fun. "We were doing an instrument-making project and one of our interns from Bowdoin College is a musician," Ms. Silvestri says. "We always bring our drum with us. The kids started really enjoying the music. The following week, our intern brought her guitar. We ended up having music, and kids on drums, and creating visual art at the same time. It was just so communal and joyful. The kids really felt connected by having both forms of art." The kids are drawn to the drum," Ms. Silvestri says. "And sometimes we'll turn the garbage pail upside down, and sometimes we'll share that. It's a fun summer thing and everyone can join in."
ArtVan operates on the principle that creating art encourages self-reflection, self-awareness, self-regulation, and commitment, all rooted in a human need to communicate and to know. The programs serve both boys and girls, ages 3-18, of all abilities and genders. Through art, youth can discover new meanings and relationships because art provides a safe and tangible outlet for underlying thoughts and feelings. With meaningful themes such as Who Am I, What Brings Me Peace, and What Are My Dreams, ArtVan encourages youth to share goals and hopes with the group. Every week, ArtVan brings a new project theme and technique, and tells the kids, "You may use this idea or do whatever you want." The kids are excited about the freedom to choose how to do the project, and this helps them gain self-confidence as ArtVan celebrates their abilities and creativity. ArtVan programs help youth begin to see themselves, their peers, and their communities in different ways. Working to create an image, dance, performance, or piece of writing requires self-discipline and communication with others, and requires taking the risk of trying something new or extraordinary.
One afternoon in the Broadview Acres neighborhood in Auburn, the kids were working with clay. As a Euro-American boy named John transformed his clay from one creature to another, he talked about studying Yemen in his fourth-grade class. John had been sad to learn that children in Yemen were hungry. The clay creature he eventually created was a magical flying unicorn that could bring them food.
That same day, when a boy named Abduramon joined the group, he spoke Arabic to his older brother who was dropping him off. John immediately looked up and asked, "What are you speaking in?"
Abduramon replied, "Arabic."
"That's what people in Yemen speak," John said.
When everyone's art was complete and the kids were sharing their creations, Abduramon filled John's backpack with clay "food" he had made. John flew his unicorn up into the sky to deliver the food to hungry children in Yemen. Then John said, "They're bringing some food back for you to try." In the room, the kids shared the food, and everyone smiled and laughed.
Stories like these happen every day in ArtVan sessions. The children connect with and learn from each other. Through ArtVan, they learn the skill of expressing their emotions in a way that helps them think about and deal with things that are happening in their own lives and in the wider world.