By Jean Damascene Hakuzimana
A coalition effort to build 200 transitional housing units is underway to tackle the housing crisis that has left asylum seekers stranded in motels in southern Maine for months on end, according to a press briefing held June 30 at Greater Portland Council of Governments (GPCOG), which is spearheading the effort. The design of the houses is yet to be finalized, but a number of potential building sites were mapped as possibilities in the stretch of coast between York and Brunswick.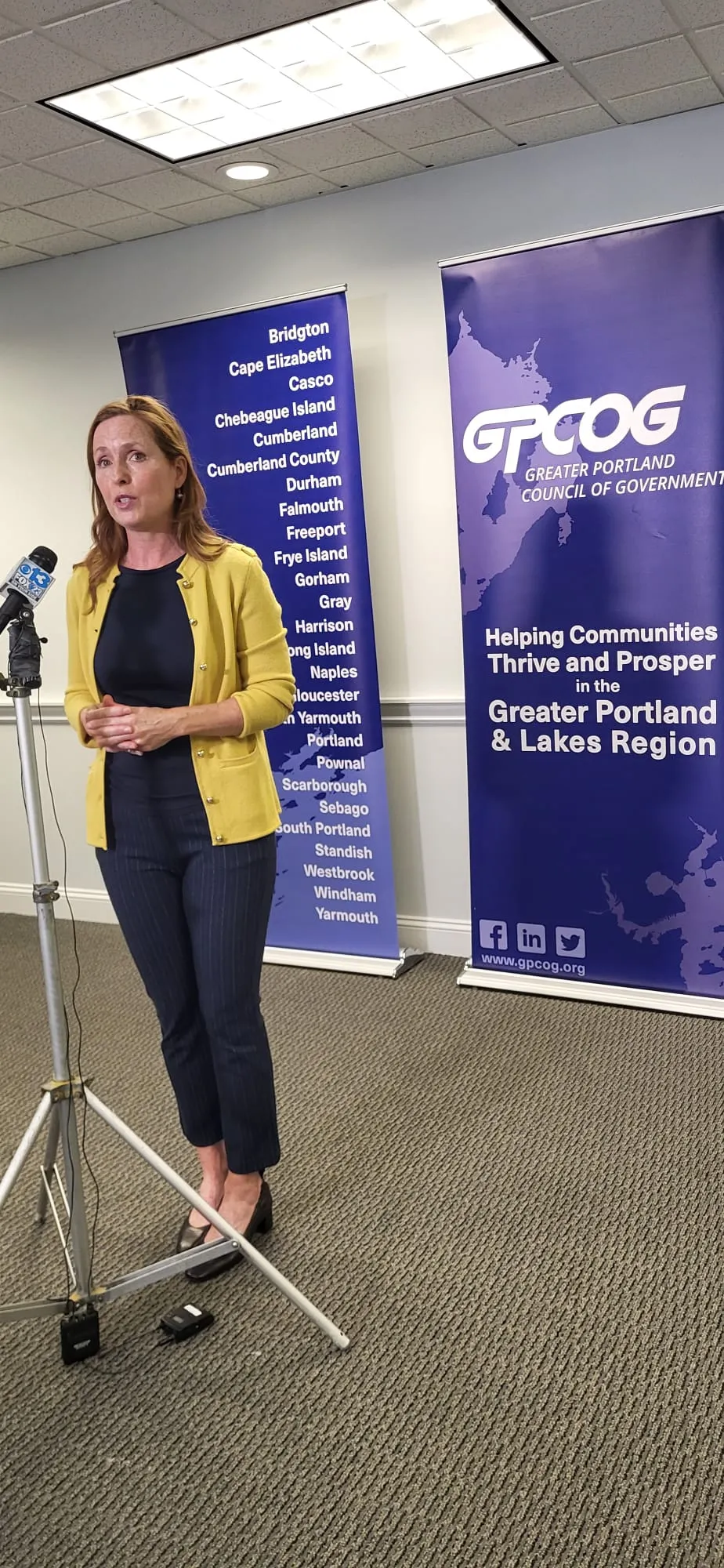 Belinda Ray, Director of Regional Partnerships at GPCOG, hailed the program as an effort to ensure more humane and more affordable housing for asylum seekers who have been living in cramped motel rooms for months on end. And, she said, the initiative will bring more prosperity to Maine in the form of additional workers, thereby helping to resolve the worker shortage crisis as well.
The City of Westbrook strongly supports the initiative. "Working to provide transitional housing for asylum seekers is critical to providing a safe and stable solution, and an effective use of limited taxpayer dollars," said Mayor Michael T. Foley of Westbrook.
The houses will be built within two years, according to Ray. She said the coalition has been working on developing the plan since February, and the coalition has set a goal of raising $1.5 million or more from individuals, municipalities, and foundations, as well as the federal government and Augusta, to fund the building project. Ray mentioned that Governor Mills has established a $22 million supplemental budget for housing in Maine, which could be a source of funding for the project.
The initiative aims to build 200 tiny houses in strategic locations. "Mapped sites for construction are easily accessible for social and commercial services," Ray said. But 200 housing units will not meet the entire need. At present, over 400 people are living in motels, and that number has been considerably higher at times.
Mufalo Chitam, Executive Director of Maine Immigrants' Rights Coalition (MIRC) said that the journey to a satisfactory solution to the housing shortage for asylum seekers still stretches far ahead, with the end still murky. "The initiative is a relief to us, and we feel heard after months of advocacy. But is this a permanent solution? No. We want a national policy dedicated to asylum seekers that will address their resettlement in Maine," Chitam said.
Ray said that developing a solution to the housing shortage for asylum seekers who arrive in Maine should not be a partisan issue. She expressed confidence that both Republicans and Democrats will understand the importance of the initiative.  However, Mainers will remember that different administrations have handled issues relating to asylum seekers differently – taking away or giving benefits to help asylum seekers trying to meet their basic needs, for example.
Chitam spoke about Maine's need for workers, and encouraged support for this initiative, saying there will be a great return to the state when housed people are allowed to work and contribute to the economy. Mayor Michael Foley of Westbrook agreed with Chitam. "We are a welcoming community. Look – asylum seekers are here to help, and we need them to be part of our economy – Maine's population is aging."
Ray believes the initiative will drive prosperity by attracting future workers to Maine. Mayor Kate Snyder of Portland noted that Portland understands the plight immigrants are in, and that is why the City has been providing much-needed support for so long. The City is eager to support this initiative, she said, and she urged the community to seize this moment and contribute to help solve the housing crisis for immigrants – which as Ray pointed out is one part of a puzzle that must include housing for other groups such as senior citizens and veterans.