Anja Hanson
Graduations illuminate networks, the quiet webs of people supporting each other. Just watch as people file out of a ceremony, notice the presenting of flowers and blossoming of hugs, and you witness networks in action.
At Portland Adult Education's graduation on June 16, 2022, nearly 70 individuals earned high school credentials, but few of those individuals stood alone. Among the graduates were a mother and daughter, aunt and nephew, husband and wife, and many close friends. Those family members and friends pushed each other to stay awake in classes after working night shifts or fed children during remote classes. They offered a net to support the graduates, and they put in hard work.
It is these same networks that enabled 35 former PAE students to graduate from Southern Maine Community College and University of Southern Maine this year. Guay M. Kelly, one of the SMCC graduates, invited his former PAE teachers to his graduation, writing.
"I can't celebrate this victory without you. All your advice and support made me achieve my goals. I really recognize that and appreciate it. So, please, don't miss this event"

Guay M. Kelly
After the ceremony, he sent dozens of joyful photographs. They weren't just pictures of him with his teachers. They were images of all the former PAE students he knew and had stayed connected to as he completed his degree.
Sometimes when we speak about diplomas and degrees, we focus on the skills or prestige conferred. But what PAE students know is that attending school and obtaining credentials is only part of the reward. They know that, by studying among peers and with teachers, they are networking. They are binding their futures to those of old and new friends. Sophie Musasa Leu, graduation speaker at this year's ceremony, closed her remarks by thanking staff, friends, and family,
"You built the ladder for me to climb." – Sophie Musasa Leu
With thousands of students each year, we rarely have time to promote Portland Adult Education. Fortunately, the student networks are strong. Students coach each other to sign up not only for courses, but also for programs like Teller Training, Medical Assisting, Education Academy, and College Transitions. One former graduate brought her adult son to PAE within days of his arrival in the U.S. She had earned a diploma, but she knew that he was a good candidate to pass the HiSET (the test Maine uses instead of the GED). He passed the HiSET within a couple of months and marched at graduation. He's now eligible for the new free community college opportunity offered to Maine graduates impacted by the pandemic. That's how a net should work.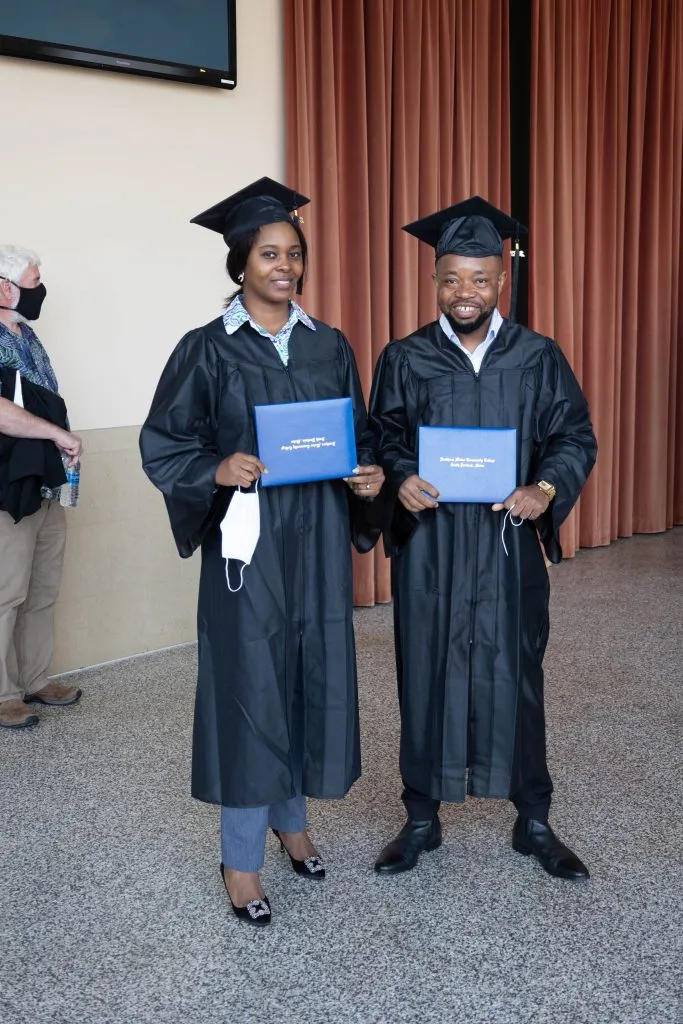 In a recent networking email, a former graduate wrote:
I am not sure if you remember me, but I graduated from Portland Adult school in 2015 after completing my GED. I went on with college, and in 2020, I graduated from UMaine Orono in chemical engineering… I can't thank you enough. 
I copied my friend to this email because he is a recent immigrant, trying to pursue the same pathway as mine. I therefore referred him to you since you are the person that directed me. I will leave it to you both to plan on how he can successfully pass the GED test and how he can access all the required information and materials to pass it. 
Networks aren't just for corporate executives or computer engineers. Networks at Portland Adult Education are ladders for all to climb and webs to catch us when we slip. Fall term will begin on September 12, 2022, but during the summer, students will be driving friends and walking family to the front desk to join the PAE network. We welcome you!