Par Alex Carter, Maine Equal Justice Policy Advocate 
Qu'est-ce que cela signifie pour le Maine de soutenir les immigrants et ceux qui cherchent un nouveau départ et la sécurité face à la persécution, la guerre et la dictature ? C'est plus qu'ouvrir nos portes – c'est s'assurer que les nouveaux arrivants ont un toit sur la tête, de quoi manger, la capacité de travailler et de subvenir aux besoins de leur famille, et l'accès aux services de santé essentiels pour leur bien-être physique et mental. L'année dernière, Gouverneur Janet Mills et l'Assemblée Législative du Maine ont élargi le programme MaineCare aux femmes enceintes et aux personnes de moins de 21 ans ayant un revenu admissible, quel que soit leur statut d'immigrant. Cela signifie qu'à partir du 1er juillet 2022, un plus grand nombre de jeunes résidents à faible revenu résidant dans le Maine pourront s'inscrire à une couverture médicale abordable par le biais du MaineCare.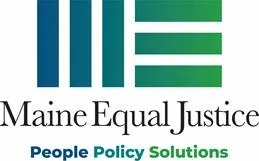 Si vous pensez que vous ou votre enfant pouvez devenir éligible cette année et que vous avez des questions sur l'inscription à partir de juillet, veuillez appeler la ligne d'assistance Consumers for Affordable Health Care au (800) 965-7476. Si vous pensez que le MaineCare vous a été refusé à tort ou que vous avez des difficultés à vous inscrire, vous pouvez également contacter Maine Equal Justice au (866) 626-7059. Ce numéro comprend une option permettant de sélectionner la langue de votre choix.
While the expansion of MaineCare to youth and pregnant people is cause for celebration, many immigrant adults still fall into the MaineCare coverage gap and cannot afford the healthcare they desperately need.  
There are two opportunities during this short legislative session to right this wrong!  
The first is the 2022 Supplemental Budget. Maine has a historic revenue surplus of approximately $1.233 million. A small portion of these funds could be used to extend MaineCare to adults who remain ineligible due to their immigration status, to provide cost-saving and lifesaving preventive, primary, and acute healthcare.  
In early March, the Appropriations and Financial Affairs Committee and the Health and Human Services Committee heard from members of the public on LD 1995, the Supplemental Budget bill. Hours of testimony on different parts of the budget included members of the public speaking passionately about the importance of healthcare coverage for immigrants.  
The second opportunity to expand health care access for all Mainers is LD 718: An Act to Improve the Health of Maine Residents by Closing Coverage Gaps in the MaineCare Program and the Children's Health Insurance Program. This bill first appeared last year. If passed and funded, LD 718 would extend MaineCare benefits to immigrant adults, irrespective of their immigration status. Learn more about the bill in our fact sheet, under the "policy/healthcare" on www.maineequaljustice.org.  
During last year's public hearing for LD 718, immigrant community members and advocates told legislators their stories of pain and resilience and the impacts of lack of healthcare coverage on their lives, families, and businesses. 
Rosy Ontiveros, a resident of Lewiston who assists others in her community without health insurance explained, "It's very difficult for all the people who don't go to the doctor for fear of not being attended to because of lack of ability to pay. …We have many stories of people who have broken bones and, because of not having access to health insurance, they have not sought the necessary therapies needed and the pain they experience is constant." 
Your voice really counts in making sure our neighbors, friends, and family who are immigrants have access to services like healthcare. Legislators need to know that their constituents support them when they do the right thing. To learn more and support LD 718, visit: maineequaljustice.org/get-involved/take-action/.  
As Rosa Ontiveros told the HHS Committee, "I trust in you, and I think with your help we can win this."