By Violet Ikong  
Tochi Ajike was thrown into a state of fear and confusion in 2020 when her 18-month-old son David (a pseudonym), still couldn't make any sounds – not even babbling. Instead what he did was rock back and forth, spin in circles, and cry for no apparent reason.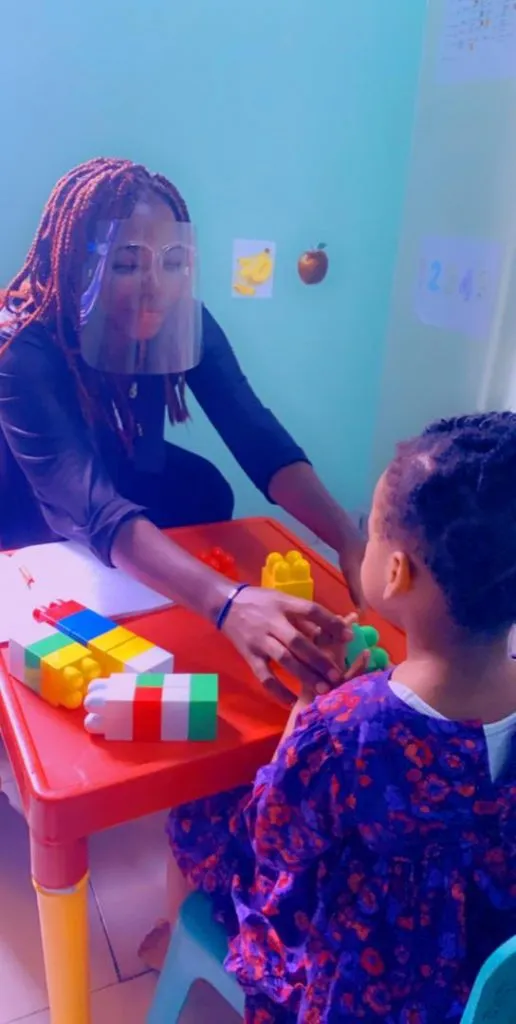 A friend mentioned that David might be living with autism spectrum disorder (ASD). But Ajike, age 32, did not know much about the disorder. She began by looking up "autism."
"It was terrible, and felt like the end of the world for me, because the results I got from the search convinced me my child had autism, even before a doctor could confirm it," Ajike said.
But family members and friends believed David's situation was spiritually based. They offered to take Ajike and David to popular pastors, who they believed could undo what they considered to be the devil's handiwork.
Many people in Nigeria and other African countries think that ASD is caused by spiritual attacks, and that children with the disorder are "possessed." But experts warn that ASD is a developmental disorder, and has nothing to do with spirits.
Globally, about one in 160 children has an autism spectrum disorder. Even though there is no exact data on its prevalence in Nigeria, experts say about one out of every 125-150 children (or about 600,000 children) is living with ASD in Nigeria.
Kenya and Uganda also record cases of ASD. According to a report by the Autism Society of Kenya, up to 4% of the child population has ASD, which translates to about one autistic child for every 25 children. The Uganda Bureau of Statistics puts the prevalence of ASD in the country at 70 out of 10,000 persons. About 388,000 people are said to suffer from the disorder, including children.
After her internet research convinced Ajike that her son was autistic, she began looking for autism centers in Port Harcourt, Rivers State, in Southern Nigeria, where she lives. In the course of her search, she came across Blazing Heart Autism Center (blazingheartfoundation.com/).
Founded in July 2009, Blazing Heart provides emotional and psychological care and support to children living with autism, as well as to their families. "I did not start Blazing Heart because I had an autistic child on the spectrum, or because I needed money. It was borne out of sheer love for children with special needs," said Beauty Kumesine, Blazing Heart's founding executive director.
Ajike resisted taking her son to the center at first, and instead took him to a children's hospital in the city. In fact, most parents in Nigeria find it difficult to enroll their special needs children in schools and facilities for special needs children for a variety of reasons, including a fear of societal stigma. Most Nigerians think that special needs schools and facilities exist for children who are "not normal."
However, after a doctor at the hospital verified David's diagnosis of autism, the doctor recommended that he be taken to the Blazing Heart Autism Center, and Ajike was forced to make a difficult decision.
In early 2020, David was enrolled at the center. Experts made careful diagnostic assessments and analyses – usually the initial step for any child who is brought to the center so that professionals can determine a child's individual needs and the best teaching strategies to use.
"Each day, we come across different kids – and like they always say, no two cases of autism are the same. I try to see life through their individual eyes," said Joy Jenyo, who works as a behavior therapist at the Center.
Since its inception, Blazing Heart has identified over 2000 cases of ASD, and has managed about 250 cases with direct interventions. Currently, about 46 autistic children are enrolled at the center including David, who is now three years old.
In a series of therapy sessions from Monday to Friday, kids learn how to communicate, how to behave in society, how to be independent, and they explore music and art.
Jenyo said, "We are not trying to change them, but we teach them to shun behaviors that are not acceptable in society, and we also help them to gain independence that they can then use to navigate their way in society."
"If David wants something, he now can point to it as a way of asking you to give it to him. He could not do that before he went to the center," David's mother Ajike said.
For children with speech issues, therapists teach communication, so that others are able to understand them. David has been in speech therapy sessions at the center since 2020. His mother said, "He can now make sounds, and he recites nursery rhymes, even though not so well yet."
Therapy sessions at the center cost between N50,000 ($120.89) and N125,000 ($302.22) a month. However, Nigeria's minimum wage is N30,000 ($72.53) a month, meaning that most families with an autistic child cannot afford to pay for therapy sessions.
"With the money we get from therapy sessions, we are able to pay our staff of over 46 people. For families that cannot afford to pay for our sessions, we are sometimes able to provide sessions for free, if we get enough external funding," Executive Director Kumesine said.
Annually, the center organizes awareness programs across rural communities in Rivers State. "We have been reaching out to communities, parents, and schools to let them know that autism is not a death sentence," she said.
Meanwhile, Ajike said that parenting a child with autism is challenging. "People in the society we live in are not very welcoming to children with autism. They just throw comments that are not nice. Most times they look at my son and ask me why he is still wearing diapers at the age of 3. They go as far as saying I am not a good mother."
Children with autism in Africa face discrimination from members of society who believe the disorder is a result of a spiritual attack. They do not see children living with ASD as normal children. Kumesine said, "Society does not understand them. I keep asking, who defines 'normal' and how did we come to a conclusion that we are normal, while children with special needs are not?"
But Blessing Inaboya, another behavior therapist at Blazing Heart, believes that society is unfair to children with autism and discriminates against them because not enough is being done to educate people about ASD. "If people were more informed, they could understand that it is nothing more than a disorder, and they would learn to treat people with autism better," she said.
Experts say that most Africans are largely unaware of autism, despite its prevalence. Inaboya believes this could be the reason why most African countries have not carried out enough research to arrive at exact data on the number of persons affected by the disorder across the continent.
Another challenge in raising children with autism is money. In Ajike's words, "Paying for therapy, and trying to give them the care that they need takes a financial toll on the parents." 
And working with parents who anticipate miracles can be challenging, said Kumesine. Parents sometimes expect their autistic children will learn to read, communicate, and behave in the same way that other children without the disorder do – and in a short amount of time. "Some parents want to see instant changes, and fail to understand that it is a process that demands patience and time. They tend to put pressure on the children to be what they expect them to be in their heads, forgetting that they have their own lives to live," she said.
Despite its commitment to helping autistic children lead happier and healthier lives, Blazing Heart Autism Center struggles financially. "Sometimes we get financial support from people, companies, and we also get grants, too, but it is still not enough to enable us to carry out our work as effectively as we would like," said Kumesine. In the future, the organization hopes to have an inclusive vocational center specifically set up for children with autism to help them use vocational skills.
For the moment, Ajike is encouraged by David's progress, and she is eager to support him and assist him in realizing his ambitions. She is also dedicated to assisting other parents of autistic children see the bright side of life, and understand that a diagnosis of autism is not the end of the world.