By Violet Ikong
When a deadly conflict forced Emmanuel Lomoro to abandon his home country of South Sudan in April 2016, he sought and found safety at the Bidibidi refugee camp located in northwestern Uganda. Bidibidi is one of the world's largest refugee camps, currently housing over 4.5 million residents. Now 24 years old, he is giving back to the camp that sheltered him by collaborating with refugee youth, widows, and single mothers through an organization he founded, Generous Design Africa (GDA), Lomoro's objective is to save the camp from plastic pollution through upcycling and recycling.
When Lomoro first arrived in Bidibidi, he immediately realized that conditions for refugees were hard: poverty, hunger, and health challenges were widespread in the camp. Over time another issue impressed him – he realized that improper plastic waste disposal was a pressing, yet unaddressed problem. "People disposed of plastics irregularly in the camp, and … did not even know about the dangers posed by plastic pollution," he said.
  Lomoro seized every possible opportunity to research online and learn about the environment and other topics. Although he was not able to continue his formal education after leaving South Sudan, he never stopped studying. He learned about the dangers of plastic pollution and became gravely concerned by what he was reading, both because of the impact on the planet and because he realized the well-being of those living in Bidibidi was directly impacted.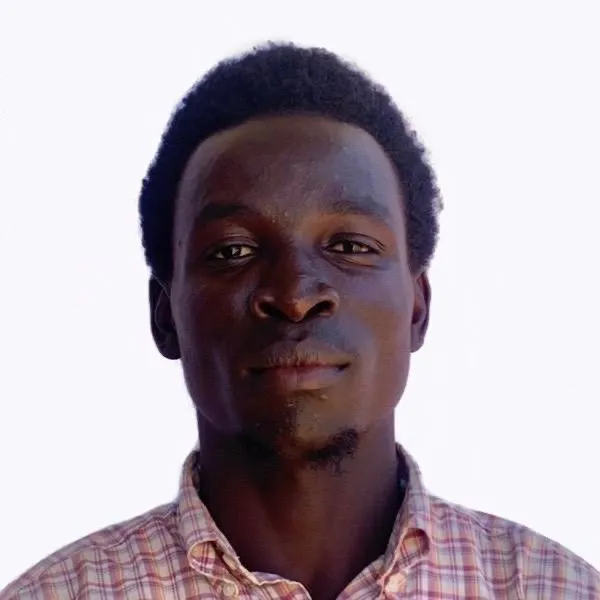 Research leads to concern and hope
Lomoro learned about the connection between improper disposal of plastics and conditions for people living in the camp. People in refugee camps are always hungry and seek ways to sustain themselves, since aid agencies can't provide enough food. When allowed, people farm on lands provided by their host communities. But because people don't realize the connection between the disposal of plastics and the quality of farmland, they dispose of plastic directly on farmland. This can lead to poor crop yields because plastics can change the earth's physical structure and limit the soil's capacity to hold water, resulting in a reduction in root growth of plants as well as decreased nutrient uptake ability.
Littered plastics also can contribute to the expansion of disease, such as malaria. Peter Lewi, a South Sudanese refugee who also lives in Bidibidi and works at GDA said, "Abandoned plastics in the camp accumulate water, and could [contribute to residents contracting] malaria, since this becomes a breeding ground for mosquitoes."
Lomoro also worried about the future of life on land and in the sea. He learned that less than 10% of the seven billion tons of global plastic waste ever generated has been recycled. Because it takes so long to disintegrate, most of it still exists. The U.S. alone generated about 40 million tons of plastic waste in 2021, but only about two million tons were recycled.
But along with the information he learned that frightened and concerned him, he also started to read about different technologies and approaches that can help manage plastic waste, including upcycling and recycling. Upcycling refers to the reuse of waste materials – in this case, plastics – to produce products of higher quality; recycling involves the destruction and conversion of the waste into new products.
Taking action
In 2018, Lomoro started planning a social enterprise that would focus on upcycling plastics and on creating awareness about how to help achieve a sustainable world of zero plastic waste. By 2020, he had received some support in the form of funding and educational resources from the Social Innovation Academy. He founded GDA in September of the same year.
The organization's first project was upcycling. Lomoro collected old discarded tarpaulins – which are provided to refugees by aid agencies for roofing shelters – and from these he created waterproof school bags for children, as well as handbags and shopping bags. The products were well received.
In 2021, GDA began introducing recycling to residents of the camp. The Austria-based organization Plasticpreneur responded to Lomoro's pitch and provided recycling machines. With these, GDA was ready to give Lomoro's plan a try. First, refugee women and youth circulated through the camp and gathered littered plastics, which they took to designated containers placed in locations in different zones of the camp. The team at GDA picked up the waste three times a week. Then, the plastics were transported to the organization's workspace by a boda-boda, the local name for a motorcycle. At the workspace, the plastics were sorted according to colors, washed, and allowed to dry. When drying was complete, they were shredded into smaller sizes using a manual shredder, and then passed into an injection machine for about 10 minutes to allow them to melt. Finally, the melted plastics were put in a mold. And the project worked!
Recycled plastic products made by GDA include rulers, pegs, cups, and buttons. These products are sold. The pegs are sold by the dozen, at UGX3000 ($0.81); rulers are sold by the piece, at UGX500 ($0.13). Ten buttons cost UGX200 ($0.054) and cups cost UGX1000 ($0.27) each.
People who wish to purchase the products can either visit GDA's office, which is usually open from Monday to Friday every week, or they can place their order over the phone for doorstep delivery. Even though GDA would like to sell to a global market, the organization currently sells only to customers in Bidibidi, as well as some other parts of Uganda, including Kampala, the country's capital. The organization promotes its products and attracts buyers through social media. But inadequate resources limit marketing.
Resource challenges
Products made by GDA are neither branded nor packaged because the organization lacks resources. Lomoro knows that this limitation is serious. "The problem limits potential customers from knowing where and how the products are made. They should know that the products come from Bidibidi, and are made by refugees," Lomoro said.
And sometimes a customer's order gets delayed because of logistical problems. The organization does not own a motorcycle or any other vehicle to transport waste or deliver products to customers. Sometimes this causes delays, which leads to disappointment. And since Bidibidi lacks electricity, GDA relies on rented solar systems to power its recycling machines. The cost of renting is expensive, which increases funding problems facing the organization.
GDA pays their waste collectors, which can make a significant difference in the lives of residents. "Collecting waste for the organization keeps me busy, and enables me to be able to pay my children's school fees," said 31-year-old Sarah Poni, a South Sudanese widow whose husband was killed during a violent conflict in South Sudan. Mary Nadia, a 19-year-old single mother, also relies on the income from her work as a waste collector. She said, "I got married off to a man in the camp at the age of 16, and I was later abandoned by him with a son to cater to all by myself. Waste collection is how I get money to do that."
The organization also leads two trainings a month to teach residents about plastic recycling. So far, over 100 people have attended trainings. GDA's awareness exercises teach people about the dangers of plastic pollution and how to properly reuse or dispose of plastic waste.
  But the organization is struggling, with barely enough money left to purchase machines and equipment and to keep the organization running. Lomoro is undeterred, however. He said, "As challenging as this is, we will keep ensuring we fight plastic pollution in the camp, and provide employment opportunities for youth and women." 
Violet Ikong is a freelance journalist based in Nigeria who reports on social issues in sub-Saharan Africa. Her stories have been published in Prime Progress and Nigeria Health Watch, in addition to Amjambo Africa.