By Abdul Rahman Qani and Catherine Lindgren, Esq.
We are fast approaching the one-year anniversary of our government's declaration to end America's longest war. But a 20-year war doesn't just end.
A new battle began on the heels of the U.S. withdrawal from Afghanistan on August 15, 2021. It is a battle of survival for our Afghan allies who directly served the U.S. mission, and for countless others who committed their lives to achieving our nation's goals for two decades.

It is also a battle for our country's honor.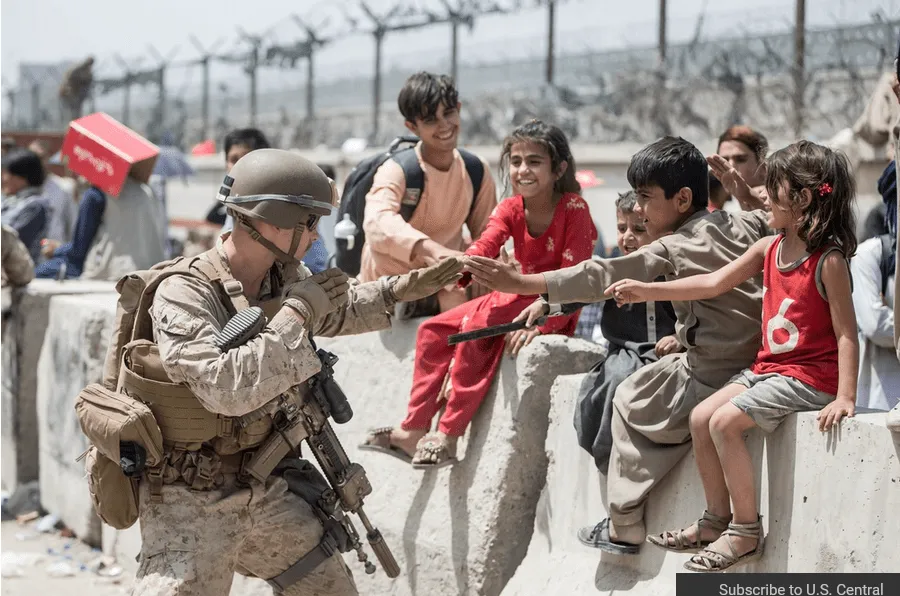 Once the last evacuation flight took off from Hamid Karzai International Airport in Kabul on August 30, 2021, a new phase of the war began. In Afghanistan, our allies and their families are hunted down by the Taliban, seeking revenge against them for their U.S. alliance. In the United States, veterans work tirelessly to try to save others who fought beside them and served the U.S. mission. Afghan Americans – including those who received Special Immigrant Visas (SIVs) for their service to the U.S. over the past 20 years – search for a path of escape for their loved ones trapped in Afghanistan.
Instead of flexing the logistical capability and strength of a superpower to save our allies, the U.S. has employed outdated and slow processes that fail to honor America's promises. As a result, nearly one year later, tens of thousands of Afghans who worked with American forces and applied for SIVs remain trapped in Afghanistan and on the run from the Taliban. Their lives are at risk due to U.S. bureaucracy and backlogs. While the administration of President Joe Biden recently announced some positive changes to one step of the SIV application process, the time it takes for the remainder of the process could still be too long to save the lives of our allies in hiding.
Similarly, more than 46,000 Afghan humanitarian parole applications have been filed since July 2021. Humanitarian parole would give Afghans who remain in danger in Afghanistan or third countries a pathway to temporarily come to the U.S. to seek safety. As of early June, only a few thousand of the 46,000 cases were processed and just 297 approved. This is in stark contrast to the U.S. government's handling of Ukrainian parole applications: 41,000 Ukrainian humanitarian parole cases under Uniting 4 Ukraine (U4U) – where almost all applicants are white – have been approved as of early July 2022 in a far shorter period than the Afghan applications. 41,000 versus 297.
We can do better. We must do better. And there is not a moment to spare. Contact your members of Congress and call for action now.
---
We applaud U4U for being a flexible and innovative model – a model that could be and should be used without discrimination to process humanitarian parole applications for those in danger and fleeing war and persecution, including Afghans.
As further evidence that this mission is far from over, the 73,000 Afghans who were evacuated to the U.S. are now scrambling to determine what they must do to be able to remain here permanently and hopefully be reunited with their family members who did not make it through the gates of the Kabul airport. The majority do not have a clear pathway in securing Lawful Permanent Resident status (a green card) to be able to stay permanently in the U.S., let alone to begin rebuilding their lives. Most will need to apply for asylum, a complex, traumatizing process with no guaranteed outcomes. They may be on U.S. soil, but they have still been left behind.
These humanitarian fallouts are compounded by the impact of these policy decisions on our national security and on our veterans. U.S. troops were told to win the hearts and minds of Afghans. They did – they won Afghans' hearts, minds, and loyalty. Our Afghan allies believed us when we said, "If you stand with us, we'll stand with you." If we do not honor America's promises made while at war, the success of future missions will suffer. We also fail to honor our veterans who should not have to volunteer countless hours trying to rescue the Afghans who stood by them and in some cases saved their lives.
We can do better. We must do better. And there is not a moment to spare. Contact your members of Congress and call for action now.
The Biden administration and Congress have the power and the choice to take immediate action to remedy some of these egregious betrayals against our allies, our veterans, and our national security. These include:
1. Passing legislation that will create an easy, commonsense, efficient process that all Afghan evacuees from Operation Allies Welcome can follow to apply for and attain Lawful Permanent Resident status in the United States.
2. Fixing the SIV program so that our allies in Afghanistan who have managed to survive this long do not run out of time.
3. Putting in place a program that will speed humanitarian parole processing for Afghans fleeing from war, just like was done for Ukrainians.
4. Doing more to address plummeting humanitarian and economic conditions in Afghanistan.
Abdul Rahman Qani is President of the Afghan Community of Maine and works as a physician assistant at MaineHealth. He worked for 10 years for the U.S. government in Afghanistan before coming to the U.S. via a Special Immigrant Visa in 2013.
Catherine Lindgren is Afghanistan Project Attorney at the Immigrant Legal Advocacy Project in Portland, and is a member of the Afghan Response Task Force of the American Immigration Lawyers Association. 
*The appearance of U.S. Department of Defense (DoD) visual information does not imply or constitute DoD endorsement.