By Violet Ikong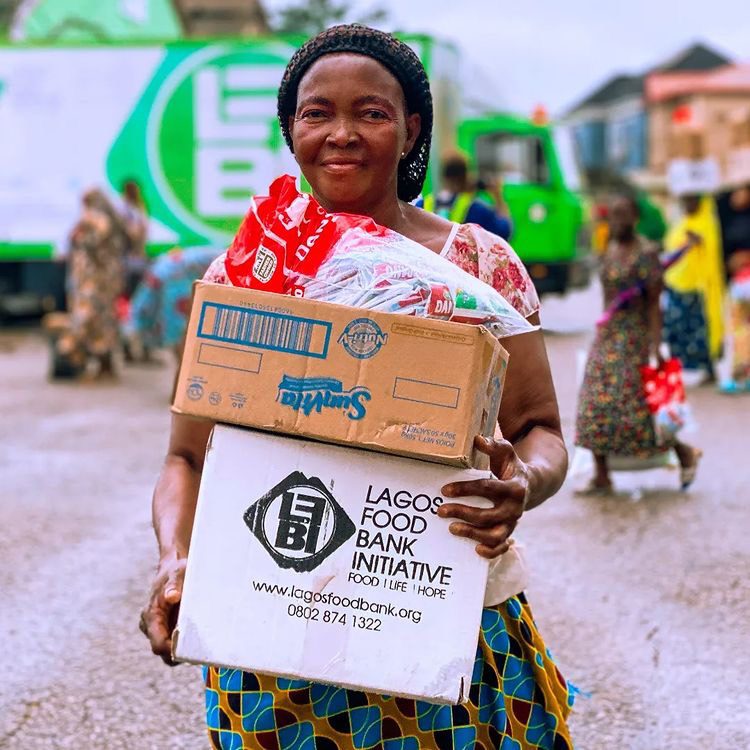 Food insecurity is a major concern in Africa, where an estimated 460 million people live on less than $1.90 per day. The hunger rate in Africa stands at one in five people, or 21% of the population. Malnourished children and mothers are commonplace. However, African-led individuals and groups are working to find solutions to hunger and malnutrition.
Physicians address severe acute malnutrition in insurgency states

At age 7, Zainabu Bello weighed only 16 kilograms. She had a swollen belly with an "egg-on- sticks" appearance and was diagnosed with kwashiorkor, a form of severe acute malnutrition resulting from inadequate protein intake. But Bello's mother got her to the Medical Doctors' Inter-Community Health Initiative (MICHI) for treatment, and two months after she was first seen by MICHI founder Dr. Reuben Kamah, she was discharged and able to return to school.
MICHI is an example of an African-led nonprofit working to find solutions to hunger and malnutrition and promote community health. Founded in 2009, MICHI runs six stabilization centers in war-torn states in Nigeria (such as Bello's home state of Bauchi, in northeastern Nigeria) that are ravaged by insurgency. The centers employ a total of 50 doctors and are operated in collaboration with public hospitals. The doctors provide free services to children like Bello with severe acute malnutrition.
In states such as Bauchi, the security challenge has resulted in a rise in food prices, and the abandonment of farmland. "Most of the people in the communities affected by the insurgency are farmers who had to abandon their farmlands due to security concerns…because they cannot return to their farmlands, there is severe hunger in those communities," Kamah said.
Every year, MICHI's centers treat approximately 3,000 women and children, among whom are typically about 100 children with severe acute malnutrition. At present, over 20 children are undergoing treatment at a MICHI center for kwashiorkor. They are given food and vitamin supplements – including from the U.S.-based nonprofit Vitamin Angels – until they fully recover. "We admit them for 21 days, and give them vitamin A and ready-to-use therapeutic food," Kamah said. The latter is known as RUTF.
To prevent relapse, the organization follows up on cases. At present, Bello's health is stable.
Thousands helped with food security

Michael Sunbola is a lawyer and food systems activist who experienced food insecurity as a child, which led him to start what has become the largest food bank in Nigeria.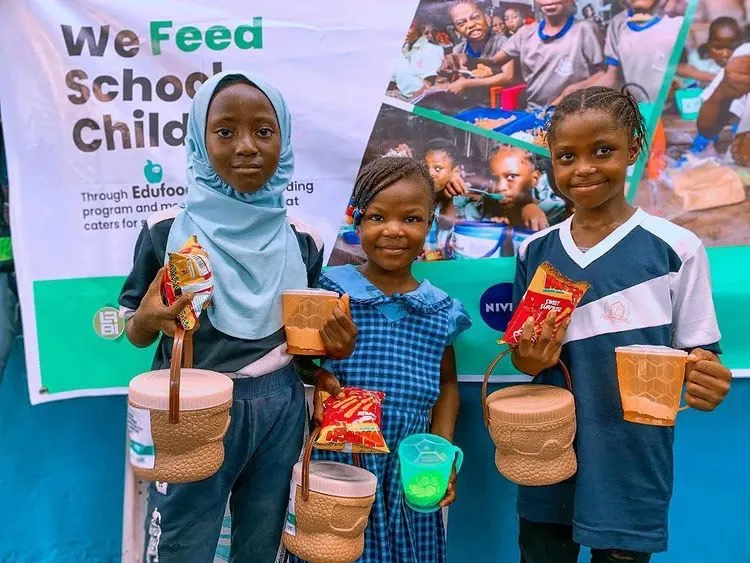 "I felt it was important to use that childhood experience to help other families in Nigeria achieve food security." — Michael Sunbola
So in 2016, he established the Lagos Food Bank Initiative (LFBI), in the country's most populous state, Lagos. LFBI serves children, pregnant and lactating women, elders, those without shelter, patients with diet-related disorders, and members of extremely impoverished households. Generally people get food from the food bank in Ikeja, Lagos. Sometimes LFBI brings meals to those who are hungry. And the organization runs a school feeding program for children in low-income communities of Lagos.
"Currently, we have 3,100 students from 20 schools who are beneficiaries of our school feeding program. We give them food three times a week, and we are working to scale up the number of schools to 35," Sunbola said.
The organization also helps families who need long-term nutrition and livelihood support set up small backyard farms.
"The farms we set up for them become their source of food security and we stop them from coming to the food bank after that is done," he said. Over 500 households in Lagos have benefitted from this program, 84 of which now have well-established farms. Sunbola believes farming is important in fighting hunger and regulating the prices of food. "When there is a surplus of food, there would not be hunger, but when you have less production and more demand, it takes the cost of food up."
LFBI also runs a nutrition-intervention program for women with diabetes. The women are given dietary counseling and access to the kinds of food they need.
Since its inception, LFBI has reached over 160 communities and impacted the lives of over 2 million people, Sunbola said. The organization hopes to expand its work to other Nigerian states and start producing and selling food to people at subsidized rates.
Feeding children living on streets

One of Lagos' most populous slum areas is Ajegunle, where starving children who live on the streets and don't attend school are a common sight. But the nonprofit Umbrella for The African Child, founded in 2017 by 27-year-old Samuel Mensah from Ghana, works to help these children in Ajegunle and six other communities in Nigeria and Ghana. Opara Obinna is his Nigerian co- director. Together the men work to provide food and mentoring to children in the slums of the two countries.
"We have children who do not go to school in those communities as a result of hunger. Most of them come from families where their parents cannot afford to feed them," Mensah said.
Most people in Ajegunle live on less than $2 a day, and with Nigeria's inflation rate reaching 15.92% in March 2022, purchasing food is almost impossible. Mensah blames the government for mistaken priorities. "A lot of people do not go into agriculture. In Africa, we invest in entertainment and other sectors, but we do not invest so much in agriculture, and that is why prices of food are on the rise, leading to hunger," he said.
Victoria Michael, a young girl from Ajegunle, said, "In the community I come from, you find children who are homeless and hungry. It is always sad to see what we go through."
Along with their team of volunteers, Mensah and Obinna have helped over 7,000 impoverished children since 2017. The organization wants to start a school nutrition program. They believe this will not only help fight hunger but also encourage the children living in impoverished communities to embrace education. "If the children know that they will be fed in school, they
will be motivated to go," Mensah said.
UTAC hopes to build a school in Ajegunle in the future, complete with a free food program for the children.
Challenges

As important as the work of these organizations is, they face huge challenges. One is funding.
"It costs about $150 to treat a child for severe acute malnutrition, and feed them to recovery. We need enough financial support to be able to do that for every child that has a case of severe acute malnutrition," MICHI's founder Kamah said.
And access to communities is also difficult. UTAC's team in Lagos state are charged levies to reach children in Ajegunle and Makoko, another state.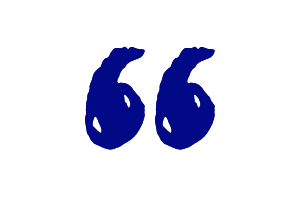 Policy challenges complicate the work of LFBI. "When the government is not giving tax relief to companies that donate food to us, those companies are not encouraged to donate more. There should be policies that can encourage donations from companies that donate food," Sunbola said.
But despite the obstacles, these African-led organizations remain committed to ending hunger in their communities, and to helping achieve food security.